Who's On Heart: Wrong Guesses Revealed!
Take a look at the full list of every wrong guess for Who's on Heart!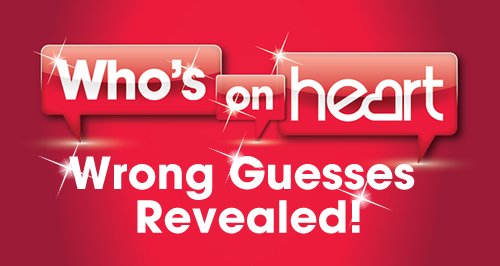 Rhiana guessed the second celebrity and bagged a whopping £20,000. She's tells us she's already been on a champagne shopping spree and bought some glam outfits! Lets not forget Andrew who guessed the first celebrity of Who's On Heart and won a magnificent £10,000!
It could be you! Simply guess the identity of our three secret celebrities to win £100,000!
You can see every wrong guess so far in our up-to-date list below.
Note: The list will be updated daily with all new wrong guesses by 5pm each day.

2D from Gorillaz
Aaron Eckhart
Aaron Paul
Aaron Taylor Johnson
Adam Ant
Adam Garcia
Adam Henson
Adam Hills
Adam Levine
Adam Rainer
Adam Richman
Adam Rickitt
Adam Sandler
Adam Woodyatt
Ade Adepitan
Ade Edmondson
Adele Adkins
Adrian Bower
Adrian Chiles
Adrien Brody
Aiden Gillen
Ainsley Harriott
Al Murray
Al Pacino
Alan Armstrong
Alan Carr
Alan Cumming
Alan Dale
Alan Davies
Alan Dedicoat
Alan Hansen
Alan Lancaster
Alan Pardew
Alan Rickman
Alan Shearer
Alan Sugar
Alan Titchmarsh
Alastair Campbell
Alastair Cook
Alastair Stewart
Albert Finney
Alistair Darling
Alistair Brownlee
Alistair McGowan
Alec Baldwin
Alec Guinness (Sir)
Aled Jones
Alesha Dixon
Alex Band
Alex Beresford
Alex Brooker
Alex Ferguson
Alex James
Alex Jones
Alex Pettyfer
Alex Reid
Alex Salmond
Alex Turner
Alexander Armstrong
Alexander Skarsgard
Alfie Allen
Alfie Boe
Alfonso Ribeiro
Ali Campbell
Alice Cooper
Alicia Silverstone
Alison Hammond
Alison Moyet
Alistair Brownlee
Alistair McGowan
Ally McCoist
Aloe Blacc
Alvin Stardust
Andi Peters
Andrew Flintoff (Freddie)
Andrew Castle
Andrew Garfield
Andrew Lincoln
Andrew Lloyd Webber
Andrew Marr
Andrew Ridgeley
Andrew Sachs
Andrew Scott
Andrew Wilson
Andy Bell
Andy Murray
Andy Parsons
Andy Serkis
Andy Summers
Andy Warhol
Angelina Jolie
Angus Deaton
Anna Mantronix
Annie Lennox
Ansel Elgort
Ant Mcpartlin
Anthony Andrews
Anthony Bourdain
Anthony Head
Anthony Hopkins
Anthony Valentine
Anton Du Beke
Antonio Banderas
Antony Cotton
Arnold Schwarzenegger
Arsène Wenger
Art Malik
Arthur Darvill
Ashley Banjo
Ashley Roberts
Ashton Kutcher
Aston Merrygold
Augustus Prew
Austin Healy
Axl Rose
Ayden Callaghan
Barack Obama
Barbara Windsor
Barry Cryer
Barry Humphries
Barry Manilow
Barry McGuigan
Barry Sloane
Bear Grylls
Ben Affleck
Ben Ainslie
Ben Aldridge
Ben Barnes
Ben Cohen
Ben Elton
Ben Fogle
Ben Haggerty (Macklemore)
Ben Hanlin
Ben Hardy
Ben Howard
Ben Kingsley
Ben Shepherd
Ben Stiller
Ben Whishaw
Benedict Cumberbatch
Bernard Hill
Bette Midler
Biffy Clyro
Bill Bailey
Billy Bragg
Bill Clinton
Bill Gates
Bill Murray
Bill Nighy
Bill Oddie
Bill Turnbull
Billy Bob Thornton
Billy Burke
Billy Connolly
Billy Crystal
Billy Idol
Billy Joel
Billy Ray Cyrus
Billy Zane
Blake Harrison
Bob Geldof
Bob Holness
Bob Hope
Bob Hoskins
Bob Mortimer
Bob Willis
Bobby Davro
Bobby Moore
Bonnie Tyler
Bono
Boris Becker
Boris Johnson
Boy George
Burn Gorman
Brad Garrett
Bradley Cooper
Bradley James
Bradley Walsh
Bradley Wiggins
Brandon Flowers
Brendan Coyle
Brendan Foster
Brendan Fraser
Brendan Gleeson
Brendan O'Carroll
Brendan Rodgers
Brian Adams
Brian Blessed
Brian Capron
Brian Conley
Brian Connolly
Brian Cox
Brian Friedman
Brian Johnson
Brian May
Brian McFadden
Brian O'Driscoll
Britney Spears
Bruce Forsyth
Bruce Springsteen
Bruce Willis
Bruno Mars
Bryan Cranston
Bryan Ferry
Burt Reynolds
Caleb Followill
Callum Blue
Calvin Harris
Calum Best
Cameron Crowe
Cameron Diaz
Carl Froch
Carnie Wilson
Caroline Wyatt
Cary Elwes
CeeLo Green
Chad Kroeger
Chaley Boorman
Channing Tatum
Charles Bewley
Charles Dance
Charles Edwards
Charles Kennedy
Charles Saatchi
Charles Spencer (Earl)
Charlie Brooker
Charlie Condou
Charlie Cox
Charlie Hunnam
Charlie Reid
Charlie Sheen
Charlie Stayt
Charlize Theron
Charlie Thomas
Cher
Chesney Hawkes
Chevy Chase
Chick McGee
Chiwetel Ejiofor
Chris Addison
Chris Barrie
Chris Boardman
Chris De Burgh
Chris Evans
Chris Eubank
Chris Froome
Chris Gascoyne
Chris Hemsworth
Chris Hoy (Sir)
Chris Huhne
Chris Martin
Chris Moyles
Chris Noth
Chris Obi
Chris O'Dowd
Chris Packham
Chris Pine
Chris Pratt
Chris Ramsey
Chris Rea
Chris Robshaw
Chris Tarrant
Christian Bale
Christian Jessen
Christian Slater
Christina Aguilera
Christine Bleakley
Christine McVie
Christoph Waltz
Christopher Biggins
Christopher Dean
Christopher Eccleston
Christopher Lambert
Christopher Lee
Christopher Lloyd
Christopher Nolan
Christopher Timothy
Christopher Walken
Chrissie Hynde
Ciaran Hinds
Cilla Black
Cillian Murphy
Clare Balding
Cliff Parisi
Cliff Richard
Clint Eastwood
Clive Anderson
Clive Mantle
Clive Owen
Colin Buchanan
Colin Farrell
Colin Fry
Colin Morgan
Colin McFarlane
Colin O'Donoghue
Colin Salmon
Conor Maynard
Corey Feldman
Craig Charles
Craig David
Craig Ferguson
Craig Kelly
Craig McLachlan
Craig Revel Horwood
Curtis Stigers
Daley Thompson
Dale Winton
Dame Judy Dench
Damien Lewis
Damon Albarn
Damon Hill
Dan Aykroyd
Dan Lobb
Dan Osbourne
Dan Patterson
Dan Smith
Dan Snow
Dan Stevens
Dan Tetsell
Dan Walker
Dane Bowers
Daniel Bedingfield
Daniel Craig
Daniel Day Lewis
Daniel Mays
Daniel O'Donnell
Daniel Radcliffe
Daniel Rigby
Danny Baker
Danny Boyle
Danny DeVito
Danny Dyer
Danny Miller
Danny O'Donoghue
Dappy
Dara O Briain
Darcy Bustle
Darren Boyd
Darren Day
Darren Hayes
Darius Campbell Danesh
Dave Berry
Dave Brailsford
Dave Gahan
Dave Lamb
Dave Matthews
Dave Murdoch
Dave Stewart
David Attenbourgh
David Baddiel
David Bailey
Davy Jones
Daniel Bedingfield
David Benioff
David Blaine
David Blunkett
David Bowie
David Bradley
David Bull (Dr.)
David Cameron
David Cassidy
David Copperfield
David Coulthard
David Coverdale
David Dickinson
David Dimbleby
David Duchovny
David Emanuel
David Essex
David Frost
David Gandy
David Gilmore
David Gower
David Gray
David Guest
David Guetta
David Harewood
David Hasselhoff
David Haye
David Hayman
David Jacobs
David James
David Jason
David Johnson
David Letterman
David Lloyd
David Miliband
David Mitchell
David Metcalfe
David Morrissey
David Moyes
David Neilson
David Rintoul
David Schwimmer
David Seaman
David Soul
David Steel
David Suchet
David Tennant
David Thewlis
David Threlfall
David Van Day
David Walliams
David Warner
David Weir
David Witts
Davina McCall
Dawn French
Debbie Harry
Declan Donnelly
Demi Lovato
Denholm Elliott
Denis Lawson
Dennis Quaid
Dennis Waterman
Denzel Washington
Derek Acorah
Derek Fowlds
Derek Jacobi
Derek Thompson
Dermot Mulroney
Dermot O'Leary
Derren Brown
Des O'Connor
Des Lynam
Dexter Fletcher
Dick Van Dyke
Dizzee Rascal
Dolly Parton
Dom Joly
Domhnall Gleeson
Dominic Cooper
Dominic Lawson
Dominic Littlewood
Dominic Monaghan
Dominic Purcell
Dominic Rohan
Dominic West
Domonic Green
Don Henley
Don Johnson
Donal MacIntyre
Donald Sumpter
Donald Sutherland
Donald Trump
Donny Osmond
Dougie Poynter
Dougray Scott
Douglas Booth
Douglas Henshall
Dr. Christian
Duane Chapman
Duncan Bannatyne
Duncan Goodhew
Duncan James
Dustin Hoffman
Dwayne Johnson
Dylan McDermott
Dynamo
E. L. James
Eamonn Holmes
Eartha Kit
Ed Balls
Ed Byrne
Ed Chamberlin
Ed Harris
Ed Helms
Ed Miliband
Ed Sheeran
Ed Speleers
Ed Stewart
Ed Westwick
Eddie Izzard
Eddie Jordan
Eddie Marsan
Eddie Murphy
Eddie Redmayne
Edward Furlong
Edward Norton
Edward Woodward
Elijah Wood
Elizabeth Hurley
Ella Henderson
Elliot Gleave
Elliott Wright
Elton John
Elvis Costello
Elvis Presley
Emeli Sandé
Emerson Hart

Emilio Estevez
Eminem (Marshall Mathers)
Emma Bunton
Emma Thompson
Emma Willis
Emun Elliott
Enrique iglesias
Engelbert Humperdinck
Eric Bana
Eric Bristow
Eric Clapton
Eric Idle
Ethan Hawke
Evan Davis
Ewan Mcgregor
Fatima Whitbread
Fazer (N-dubs)
Feargal Sharkey
Felix Baumgartner
Fran Healy
Francis Rossi
Frank Gardner
Frank Lampard
Frank Sinatra
Frank Skinner
Frank Turner
Frankie Dettori
Fred Dinenage
Freddie Mercury
Freddie Prinze Junior
Freddie Starr
Gabriel Byrne
Gabriel Thompson
Gareth Bale
Gareth Gates
Gareth Malone
Garth Brooks
Garth Crooks
Gary Barlow
Gary Kemp
Gary Lineker
Gary Lightbody
Gary Lucy
Gary Neville
Gary Numan
Gary Oldman
Gary Philipson
Gary Rhodes
Gary Waldhorn
Gavin Rossdale
Geoff Ellis
Geoff Hurst
Geoffrey Palmer
Geoffrey Rowe (Jethro)
Geoffrey Rush
George Bush Jnr
George Alagiah
George Clarke
George Clooney
George Cole
George Ezra
George Groves
George Harrison
George Lamb
George Lazenby
George North
George Osborne
Gerard Butler
Gérard Depardieu
Geri Halliwell
Gethin Anthony
Gethin Jones
Gino D'acampo
Glenn Close
Glenn Gregory
Glenn Hoddle
Glenn Tilbrook
Glynn Purnell
Gok Wan
Gordon Banks
Gordon Brown
Gordon Burns
Gordon Jackson
Gordon Ramsay
Gordon Strachan
Graham Bell
Graham Garden
Graham McPherson (Suggs)
Graham McTavish
Graham Norton
Graham Stanier
Greg Davies
Greg Dyke
Greg James
Greg Rusedski
Greg Rutherford
Greg Wise
Gregg Wallace
Gregory Porter
Griff Rhys Jones
Guy Garvey
Guy Pearce
Guy Ritchie
Gwen Stefani
Hamish Patel
Hank Marvin
Harrison Ford
Harry Connick Jr
Harry Enfield
Harry Hill
Harry Judd
Harry Lloyd
Harry Redknapp
Harry Styles
Harry Van Gorkum
Harvey Keitel
Hayden Christensen
Heath Ledger
Helen Mirren
Helena Bonham Carter
Henry Cavill
Henry Winkler
Heston Blumenthal
Hilary Devey
Hilary Jones
Holly Willoughby
Howard Donald
Howard Jones
Howard Shore
Hugh Bonneville
Hugh Cornwell
Hugh Dancy
Hugh Dennis
Hugh Edwards
Hugh Fearnley-Whittingstall
Hugh Grant
Hugh Jackman
Hugh Laurie
Hugo Taylor
Hugo Weaving
Iain Duncan Smith
Iain Glen
Ian Botham
Ian Dury
Ian Gillan
Ian Hislop
Ian Holm
Ian Kelsey
Ian McKellen
Ian McShane
Ian Ogilvy
Ian Poulter
Ian Rush
Ian Smith (Harold Bishop)
Ian Somerhalder
Ian Watkins
Ian Whyte
Ian Wright
Ice T
Idina Menzel
Idris Elba
Iggy Pop
Ioan Gruffudd
Isaac Hempstead-Wright
Iwan Rheon
Iwan Thomas
Jack Black
Jack Davenport
Jack Dee
Jack Nicholson
Jack O'Connell
Jack Osbourne
Jack P Shepherd
Jack Ryder
Jack White
Jack Whitehall
Jackie Stewart
Jacob Anderson
Jacob Rees-Mogg
Jade Jones (Singer in Damage)
Jake Bugg
Jake Canuso
Jake Johnson
Jake Roche
Jack Gleeson
Jake Gyllenhaal
Jake Humphrey
Jake Wood
James Argent
James Arthur
James Blake
James Blunt
James Bolam
James Corden
James Cosmo
James Cracknell
James D'Arcy
James Darren
James Dreyfus
James Dyson
James Fleet
James Frain
James Franco
James Galway
James Haskell
James Hetfield
James Hewitt
James Jordan
James Martin
James Mates
James May
James McAvoy
James Middleton
James Morrison
James Nesbitt
James O'Brien
James Purefoy
James Redmond
James Spader
James Sutton
James Taylor
James Thornton
James Whale
Jamie Bamber
Jamie Bell
Jamie Campbell Bower
Jamie Cullum
Jamie Dornan
Jamie Foxx
Jamie Hince
Jamie Laing
Jamie Lane
Jamie Oliver
Jamie Redknapp
Jamie Theakston
Janet Street-Porter
Jared Harris
Jared Leto
Jarvis Cocker
Jason Clarke
Jason Bateman
Jason Connery
Jason Derulo
Jason Donovan
Jason Flemyng
Jason Gardiner
Jason Hughes
Jason Isaacs
Jason King
Jason Manford
Jason Merrells
Jason Orange
Jason Plato
Jason Segel
Jason Statham
Jasper Carrott
Javier Bardem
Jay Kay
Jay Leno
Jay-Z
Jean-Claude Van Damme
Jedward
Jeff Beck
Jeff Brazier
Jeff Bridges
Jeff Goldblum
Jeff Hordley
Jeff Lynne
Jeff Stelling
Jeffrey Archer
Jeffrey Rush
Jemaine Clement
Jennifer Lawrence
Jennifer Lopez
Jennifer Metcalfe
Jennifer Saunders
Jenny Agutter
Jenson Ackles
Jenson Button
Jeremy Clarkson
Jeremy Edwards
Jeremy Hunt
Jeremy Irons
Jeremy Kyle
Jeremy Paxman
Jeremy Piven
Jeremy Renner
Jeremy Sheffield
Jeremy Vine
Jeremy Wade
Jermaine Jackson
Jerome Flynn
Jerry Springer
Jessica Brown Findlay
Jesse Metcalfe
Jessie Birdsaw
Jim Broadbent
Jim Carrey
Jim Carter
Jim Davidson
Jim Kerr
Jim Sturgess
Jimmy Carr
Jimmy Doherty
Jimmy Fallon
Jimmy Lovine
Jimmy Osmond
Jimmy Somerville (James)
JJ Feild
Jo Brand
Joan Cusack
Joan Rivers
Joanna Lumley
Joaquin Phoenix
Joe Absolom
Joe Cocker
Joe Elliott
Joe Hart
Joe Pasquale
Joe Root
Joe Swash
Joe Thomas
Joe Wilkinson
Joel David Moore
Joel Fry
Joel Kinnernam
Joey Essex
John Altman
John Barrowman
John Bercow
John Bishop
John Bradley
John Cena
John Challis
John Cleese
John Craven
John Culshaw
John Cusack
John David Souther
John Goodman
John Gordon Sinclair
John Hannah
John Humphrys
John Hurt
John Inverdale
John Kerry
John Legend
John Lloyd
John Madejski
John Major
John Malkovich
John Mayer
John McCririck
John McEnroe
John McVie
John Michie
John Nettles
John Newman
John Parrot
John Partridge
John Paul Jones
John Rhys-Davies
John Rzeznik
John Sergeant
John Simm
John Slattery
John Snow
John Stapleton
John Suchet
John Terry
John Thaw
John Thompson
John Torode
John Travolta
John Turturro
John Virgo
Johnny Ball
Johnny Vaughan
Johnny Vegas
Jonny Wilkinson
Jon Bon Jovi
Jon Briggs
Jon Favreau
Jon Hamm
Jon Pertwee
Jon Richardson
Jonah Hill
Jonas Armstrong
Jonathan Dimbleby
Jonathan Edwards
Jonathan Groff
Jonathan Ive (Sir)
Jonathan Pryce
Jonathan Rhys Meyers
Jonathan Ross
Jonathan Pratt
Jonathan Wilkes
Jonny Lee miller
Jools Holland
Jordana Brewster
Jose Mourinho
Joseph Fiennes
Joseph Gordon Levitt
Joseph Morgan
Josh Gad
Josh Groban
Josh Hartnett
Josh Holloway
Josh Radnor
Josh Widdicombe
Jude Law
Jules Hudson
Jules Knight
Julian Barratt
Julian Clary
Julian Fellowes
Julian Lennon
Julian Lloyd Webber
Julian Ovenden
Julian Rhind-Tutt
Julien Macdonald
Justin Bieber
Justin Hawkins
Justin Rose
Justin Timberlake
Kanye West
Karl Pilkington
Karl Urban
Kate Middleton
Kathleen Turner
Katy Perry
Kayvan Novak
Keanu Reeves
Keith Allen
Keith Chegwin
Keith Duffy
Keith Lemon
Keith Richards
Keith Urban
Kelly McGillis
Kelsey Grammer
Ken Livingstone
Ken Stott
Kenneth Baker
Kenneth Branagh
Kenneth Cranna
Kenny Loggins
Kenny Dalglish
Kevin Ashman
Kevin Bacon
Kevin Bridges
Kevin Clifton
Kevin Conroy
Kevin Costner
Kevin Day
Kevin Keegan
Kevin Kleine
Kevin McCloud
Kevin McKidd
Kevin McNally
Kevin Pietersen
Kevin Spacey
Kevin Whately
Kian Eagan
Kid Rock
Kiefer Sutherland
Kieran Bracken
Kim Basinger
Kim Kardashian
Kimberly Wyatt
Kimberley Walsh
Kirsty Young
Kit Harington
Kourtney Kardashian
Kris Marshall
Kris Kristofferson
Krishnan Guru-Murthy
Kunal Nayyar
Kurt Russell
Kyle Pryor
Labrinth
Larry Lamb
Laurence Llewelyn-Bowen
Laurence Fishburne
Laurence Fox
Lawrence Dallaglio
Lee Evans
Lee Mack
Lee Majors
Lee Mead
Lee Ryan
Leigh Lawson
Lembit Opik
Len Goodman
Lennie James
Lenny Henry
Lenny Kravitz
Leonard Nimoy
Leonardo Dicaprio
Les Dennis
Leslie Grantham
Lewis Collins
Lewis Hamilton
Liam Cunningham
Liam Gallagher
Liam Hemsworth
Liam McIntyre
Liam Neeson
Liam Payne
Liev Schreiber
Lily Allen
Lindsey Buckingham
Linford Christie
Linus Roache
Lionel Richie
Lisa Snowdon
Liv Tyler
Lou Ferrigno
Louis Smith
Louis Theroux
Louis Tomlinson
Louis Walsh
Loyd Grossman
Luke Evans
Luke Goss
Luke Pasqualino
Luther Vandross
Mackenzie Crook
Madonna
Mads Mikkelsen
Maggie Wheeler
Malcolm Macdonald
Manu Bennett
Marc Almond
Marc Baylis
Marc Warren
Marco Pierre White
Marcus Brigstocke
Marcus Mumford
Mario Falcone
Mark Addie
Mark Austin
Mark Benton
Mark Cavendish
Mark Chapman
Mark Foster
Mark Francis Vandelli
Mark Gatiss
Mark Hamill
Mark Knopfler
Mark Labbett
Mark Longhurst
Mark Owen
Mark Porter (Doctor)
Mark Ramprakash
Mark Ronson
Mark Ruffalo
Mark Strong
Mark Wahlberg
Mark Watson
Mark Webber
Mark Wright
Mark Zuckerberg
Marlon Brando
Morrissey
Martin Bayfield
Martin Bruce
Martin Brundle
Martin Clunes
Martin Day
Martin Freeman
Martin Fry
Martin Jarvis
Martin Kemp
Martin Lawrence
Martin Lewis
Martin Roberts
Martin Shaw
Martin Sixsmith
Martin Snowdon
Martin Trenaman
Marton Csokas
Marty Pellow
Marvin Humes
Mary Berry
Matt Aitken
Matt Allwright
Matt Baker
Matt Bellamy
Matt Berry
Matt Damon
Matt Dawson
Matt Di Angelo
Matt Evers
Matt Goss
Matt Healy
Matt Lapinskas
Matt LeBlanc
Matt Lucas
Matt Rogers
Matt Smith
Matt Willis
Matt Wilkinson
Matthew Amroliwala
Matthew Broderick
Matthew Fort
Matthew Goode
Matthew Horn
Matthew Kelly
Matthew Lanter
Matthew MacFadyen
Matthew McConaughey
Matthew McFadyen
Matthew Morrison
Matthew Perry
Matthew Pinsent
Matthew Wolfenden
Matthew Wright
Max Beesley
Max Bygraves
Max Clifford
Max George
Maxwell Caulfield
Meaghan Smith
Meatloaf
Mel Gibson
Mel Smith
Melanie Brown
Melvyn Bragg
Mervyn King
Michael Aspel
Michael Ball
Michael Barrymore
Michael Bolton
Michael Brandon
Michael Burke
Michael C Hall
Michael Caine
Michael Crawford
Michael Douglas
Michael Eavis
Michael Fassbender
Michael Flatley
Michael French
Michael Gambon
Michael Gove
Michael Hutchence
Michael J. Fox
Michael Jackson
Michael Jayston
Michael Keaton
Michael Kitchen
Michael Lee Aday
Michael Le Vell
Michael McIntyre
Michael O'Leary
Michael Owen
Michael Palin
Michael Parkinson
Michael Portillo
Michael Sheen
Michael Smiley
Michael Rosenberg
Michael Winner
Michel Roux Jr
Michelle Keegan
Michelle Obama
Michiel Huisman
Mickey Rourke
Mick Fleetwood
Mick Jagger
Mick Hucknall
Mickey Thomas
Micky Flanagan
Midge Ure
Mike Myers
Mike Oldfield
Mike Read
Mike Rutherford
Mike Scott
Mike Tindall
Miles Jupp
Miley Cyrus
Miranda Hart
Mo Farah
Monty Don
Morgan Freeman
Morrissey
Morten Harket
Muhammad Ali
Nasser Hussain
Nate Ruess (Nathaniel)
Nathan Fillion
Nathan Sykes
Nathaniel Parker
Natalie Dormer
Naomi Campbell
Naveen Andrews
Neil Diamond
Neil Dudgeon
Neil Morrissey
Neil Oliver
Neil Patrick Harris
Neil Pearson
Neil Ruddock
Neil Tennant
Nelly
Nelson Mandela
Ne-Yo
Niall Horan
Nicholas Bateman (Nasty Nick)
Nicholas Camm
Nicholas Cowell
Nicholas Hoult
Nicholas Lyndhurst
Nicholas McDonald
Nicholas Owen
Nick Baker
Nick Berry
Nick Cannon
Nick Clegg
Nick Faldo
Nick Ferrari
Nick Frost
Nick Grimshaw
Nick Haywood
Nick Hewer
Nick Knowles
Nick Mason
Nick Miles
Nick Moran
Nick Munier
Nick Rhodes
Nick Van Eede
Nicki Minaj
Nicky Cambell
Nicky Clarke
Nicolas Cage
Nicole Scherzinger
Nigel Farage
Nigel Harman
Nigel Havers
Nigel Lawson
Nigel Mansell
Nigel Planer
Nigella Lawson
Nigel Lythgoe
Nigel Marven
Nigel Slater
Nik Kershaw
Niki Lauda
Nikolaj Coster-Waldau
Nile Rodgers
Noah Taylor
Noddy Holder
Noel Edmonds
Noel Fielding
Noel Gallagher
Nonso Anozie
Norman Cook
Norman Reedus
Oliver Jackson Cohen
Ollie Locke
Oprah Winfrey
Oritsé Williams
Orlando Bloom
Oscar Isaac
Oscar Pistorius
Owen Wilson
Ozzy Osbourne
Paddy Considine
Paddy Doherty
Paddy McGuinness
Paddy O'Connell
Paloma Faith
Paolo Nutini
Paris Hilton
Pat Monahan
Pat Sharp
Paterson Joseph
Patrick Baladi
Patrick Dempsey
Patrick Grant
Patrick Kielty
Patrick Stewart
Patrick Swayze
Patrick Warburton
Patsy Kensit
Paul Anderson
Paul Anka
Paul Bettany
Paul Blackthorne
Paul Bradley
Paul Burrell
Paul Daniels
Paul Gascoigne
Paul Heaton
Paul Heiney
Paul Hollywood
Paul Hogan
Paul McCartney
Paul McGann
Paul McKenna
Paul Merton
Paul Nicholas
Paul Nicholls
Paul O'Grady
Paul Potts
Paul Ross
Paul Rudd
Paul Walker
Paul Weller
Paul Wesley
Paul Whitehouse
Paul Young
Penelope Keith
Pete Townshend
Pete Waterman
Peter Andre
Peter Bowles
Peter Capaldi
Peter Crouch
Peter Davison
Peter Dickson
Peter Dinklage
Peter Egan
Peter Firth
Peter Frampton
Peter Gabriel
Peter Jones
Peter Kay
Peter Mullan
Peter O'Toole
Pete Postlewaite
Peter Sarsgaard
Peter Serafinowicz
Peter Sissons
Peter Snow
Peter Stringfellow
Peter Wilson
Pharrell Williams
Phil Oakey
Phil Collins
Phil Daniels
Phil Spencer
Phil Taylor
Phil Tufnell
Phil Vickery
Philip Glenister
Phillip Jupitus
Philip Schofield
Philip Seymour Hoffman
Philip Thompson
Pierce Brosnan
Piers Morgan
Pitbull
Pixie Lott
Prince
Prince Andrew
Prince Charles
Prince Edward
Prince Harry
Prince Phillip
Prince William
Professor Brian Cox
Professor Green
Quentin Tarantino
Quentin Willson
Rafe Spall
Ralf Little
Ralph Fiennes
Randy Jackson
Ranulph Fiennes
Rav Wilding
Ray Liotta
Ray Mears
Ray Russell
Ray Quinn
Ray Wilkins
Ray Winstone
Reece Shearsmith
Reese Witherspoon
Reggie Yates
Rhod Gilbert
Rhys Ifans
Richard Ayoade
Richard Armitage
Richard Arnold
Richard Ashcroft
Richard Attenborough
Richard Bacon
Richard Beckinsale
Richard Branson
Richard Burton
Richard Cole
Richard Curtis
Richard Digance
Richard E Grant
Richard Gere
Richard Griffith
Richard Hammond
Richard Johnson
Richard Madden
Richard Madeley
Richard Marx
Richard O'Brien
Richard O'Sullivan
Richard Osman
Richard Stilgoe
Richard Whitehead
Richard Wilson
Richard Ward
Richie Sambora
Rick Astley
Rick Edwards
Rick Parfitt
Rick Stein
Rick Wakeman
Rick Wright
Ricky Gervais
Ricky Groves
Ricky Hatton
Ricky Tomlinson
Ricky Wilson
Ridley Scott
Rik Mayall
Ringo Starr
Rio Ferdinand
Ritchie Blackmore
Ritchie Neville
Rob Beckett
Rob Brydon
Rob James Collier
Rob Kazinsky
Robbie Coltrane
Robbie Savage
Robbie Williams
Roberto
Robert Bathurst
Robert Carlyle
Robert De Niro
Robert Downey Junior
Robert Glenister
Robert Hall
Robert Lindsay
Robert Palmer
Robert Plant
Robert Powell
Robert Redford
Robert Thorogood
Robert Vaughn
Robert Wagner
Robert Webb
Robert Winston
Robin Cousins
Robin Thicke
Robin Williams
Robson Green
Rod Stewart
Roger Allam
Roger Ashton-Griffiths
Roger Bannister (Sir)
Roger Black
Roger Daltrey
Roger Federer
Roger Johnson
Roger Lloyd Pack
Roger Moore
Roger Taylor
Roger Waters
Roger Whittaker
Roman Abramovich
Ron Cook
Ronan Keating
Ronnie Corbett
Ronnie O'Sullivan
Ronnie Wood
Rory Bremner
Rory Kinnear
Rory McCann
Rory McGrath
Rory Mcilroy
Ross Kemp
Rowan Atkinson
Roy Hodgson
Roy Marsden
Roy Stride
Roy Walker
Roy Wood
Rufus Hound
Rufus Sewell
Rupert Everett
Rupert Friend
Rupert Graves
Rupert Grinch
Rupert Grint
Rupert Penry Jones
Russ Abbot
Russell Brand
Russell Crowe
Russell Grant
Russell Howard
Russell Kane
Russell Peters
Russell Tovey
Russell Watson
Ryan Giggs
Ryan Gosling
Ryan Murphy
Ryan Reynolds
Ryan Roschke
Ryan Seacrest
Ryan Tedder
Rylan Clark
Sacha Baron Cohen
Sam Attwater
Sam Mendes
Sam Neill
Sam Smith
Sam West
Sam Worthington
Samuel L Jackson
Sanjay (Sanjeev) Bhaskar
Sarah Beeny
Sarah Lancaster
Saul Hudson
Scarlett Johansson
Scott Disick
Scott Maslen
Scott Mills
Seal
Sean Bean
Sean Connery
Sean Evans
Sean Lock
Sean Pegg
Sean Penn
Sean Pertwee
Sean Williamson
Sebastian Coe
Sebastian Vettel
Sepp Blatter
Seth Green
Seth MacFarlane
Seth Rogen
Shakin' Stevens
Shane Lynch
Shane Richie
Sharleen Spiteri
Sharon Osbourne
Shaun Evans
Shaun Ryder
Shayne Ward
Sheryl Crow
Shia Labeouf
Sigourney Weaver
Simon Baker
Simon Bates
Simon Beale
Simon Bird
Simon Callow
Simon Day
Simon Farnaby
Simon Fuller
Simon Gregson
Simon Hopkinson
Simon Jagger (Jagger)
Simon King
Simon Le Bon
Simon Neil
Simon Pegg
Simon Shepherd
Simon Webbe
Siva Kaneswaran
Snoop Dogg (Calvin Broadus, Jr.)
Spence MacDonald
Spencer Matthews
Stan Collymore
Stanley Tucci
Stefan Dennis
Stellan Skarsgard
Stephanie Beacham
Stephen Amell
Stephen Dillane
Stephen Dorff
Stephen Fry
Stephen Hawking
Stephen Hendry
Stephen Mangan
Stephen Merchant
Stephen Moyer
Stephen Mulhern
Stephen Redgrave
Stephen Tompkinson
Steve Carell
Steve Coogan
Steve Cram
Steve Davis
Steve Guttenberg
Steve Harris
Steve Jones
Steve Martin
Steve McFadden
Steve McQueen
Steve Norman
Steve Redgrave
Steve Whitmire (Voice of Kermit)
Steve Winwood
Steve Wright
Steven Gerrard
Steven Mackintosh
Steven Moffat
Steven Pemberton
Steven Seagal
Steven Spielberg
Steven Tyler
Stevie Wonder
Sting
Stuart Goddard
Stuart Lancaster
Stuart Townsend
Sue Barker
Sue Perkins
Suranne Jones
Susan Boyle
Susan Sarandon
Susanna Reid
Suzi Perry
Sylvester Stallone
Taio Cruz
Tamzin Outhwaite
Taylor Lautner
Taylor Swift
Ted Danson
Terence Stamp
Terry Alderton
Terry Butcher
Terry Gilliam
Terry Jones
Terry Wogan
Tess Daly
The Queen
Theo James
Theo Paphitis
Theo Walcott
Thom Yorke
Thomas Brodie Sangster
Thomas Sizemore
Tomasz Schafernaker
Tiger Woods
Tim Allen
Tim Bergling
Tim Brooke-Taylor
Tim Curry
Tim Gudgin
Tim Healy
Tim Henman
Tim Lovejoy
Tim McInnerny
Tim Minchin
Tim Rice (Sir)
Tim Rice-Oxley
Tim Roth
Tim Sherwood
Tim Vine
Tim Wonnacott
Timothy Dalton
Timothy Olyphant
Timothy Spall
Timothy West
Tinie Tempah
Tobey Maguire
Toby Anstis
Toby Jones
Todd Cartey
Todd Carty
Tom Baker
Tom Burke
Tom Bradby
Tho Cavanagh
Tom Chaplin
Tom Conti
Tom Cruise
Tom Cullen
Tom Daley
Tom Ellis
Tom Felton
Tom Fletcher
Tom Goodman Hill
Tom Hanks
Tom Hardy
Tom Hiddleston
Tom Hollander
Tom Hooper
Tom Hughes
Tom Jones
Tom Kitchin
Tom Mison
Tom Odell
Tom Petty
Tom Ravenscroft
Tom Riley
Tom Rosenthal
Tom Selleck
Tom Sturridge
Tom Ward
Tom Wilkinson
Tommy Cooper
Tommy Vance
Tommy Walsh
Tony Banks
Tony Blackburn
Tony Blair
Tony Cowell
Tony Hadley
Tony Hart
Tony Jacklin
Tony Robinson
Trevor Brooking
Trevor Eve
Trevor Horn
Trevor McDonald
Tristan Gemmill
Tulisa Contostavlos
Ty Burrell
Uri Geller
Usain Bolt
Van Morrison
Vance Powell
Vanessa Feltz
Vanilla Ice (Robert Van Winkle)
Vera Lynn
Verne Troyer
Vernon Kay
Vic Reeves
Viggo Mortensen
Vin Diesel
Vince Cable
Vince Clarke
Vince Vaughn
Vinnie Jones
Warren Clark
Warren Gatland
Warwick Davis
Wayne Rooney
Wentworth Miller
Whoopie Goldburg
Will Carling
Will Ferrell
Will Greenwood
Will Mellor
Will Smith
Will Young
Will.I.Am
William Beck
William Hague
William Petersen
William Roache
William Shatner
Woody Allen
Woody Harrelson
Yancey Arias
Zac Effron
Zachary Quinto
Zayn Malik
Zoe Ball
Zoë Wanamaker