Georgeham: School Campaign For Solar Panels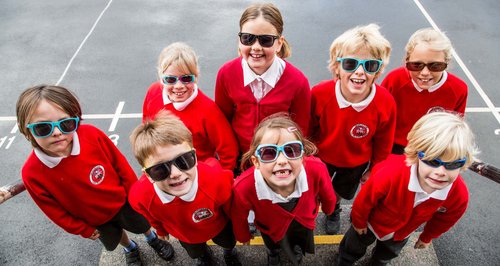 Georgeham Primary School has launched a campaign to raise £15,000 and install 20 pairs of solar panels.
It will save around £2,500 a year that's half of the schools electricity bill.
This will be used to replace things like projectors and other equipment prone to breaking down.
The panels will be ground-mounted, and the aim is to cut the school's carbon emissions, educate pupils about climate change and renewable energy and generate an annual income.
The school is one of 15 selected as a 'Solar School' by environmental charity 10:10.
Headteacher Julian Thomas said: "We're hoping the community will get behind us in helping us to tackle climate change and teaching our pupils about the importance of saving energy."
The school, governors and FROGS (Friends of Georgeham School) have launched the campaign at a meeting at the school on November 10.
The fundraising totaliser, made by the children, was unveiled at the meeting.
The totaliser has been kick-started with a pledged donation of £1,000 from FROGS and just over £4,000 in total within a few days.
The school is calling on local businesses and the community to help reach its target and a number of events will be held throughout the year.
To donate visit Georgeham's Solar Schools page, www.solarschools.org.uk/georgeham, hand a donation in at the school, or support one of the events.