Ilfracombe Hospital Bed Campaigners At Downing Street
22 October 2014, 12:20 | Updated: 22 October 2014, 12:42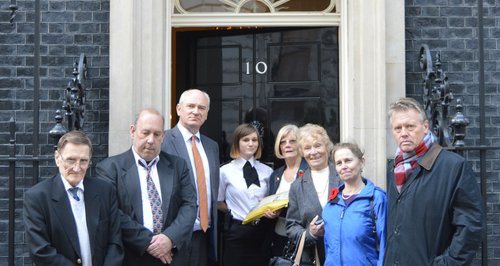 North Devon MP Nick Harvey joined campaigners from Ilfracombe to take the fight to save community hospital beds to Downing Street.
Members of Ilfracombe Tyrrell Hospital's League of Friends, led by campaigner Gloria Satchwell, presented a 3,000-signature petition to the Prime Minister and the Department of Health urging them to keep Tyrell hospital's beds open.

The community hospital – which covers a huge catchment area, from the Somerset border down to the Taw and Torridge estuaries – is facing a proposal to reduce available beds from 74 to 56. There are also suggestions that the Ilfracombe hospital could become a 'day unit' as the remaining bed numbers are split between North Devon's 3 other community hospitals.

Earlier that day in the Commons, the MP also emphasised to health Ministers that any transition to care in the community should be carefully managed, and asked if money from the Better Care Fund – cash set aside by Government to support changes in the NHS – could help the process. Health Minister Norman Lamb replied that he would be happy to discuss the matter with Nick.

Commenting, the MP said:

"Local people really value our community hospitals and there is a huge strength of feeling on this matter, as demonstrated by the vast number of signatures that Gloria and her colleagues have collected. No one is in any doubt about the huge financial pressures on the NHS and the need for restructure as people's care needs change, but plans for the outright removal of beds are concerning. North Devon is a huge geographic area with a significant elderly population and we simply don't want people travelling unfeasibly large distances.
It is now vital that as many people as possible make their views known to the Devon Clinical Commissioning Group – we need as much input as possible into the consultation process from North Devon residents. I will continue to press Ministers to get any transition right, and ensure the needs of our community are met."

Chair of Tyrrell Community Hospital League of Friends, Gloria Satchwell added:

"We are most grateful to our MP Nick Harvey for helping us present the petition to No. 10 today. The catchment area for Tyrrell Community Hospital is considerable and with hundreds of new homes now planned for Ilfracombe, the population is set to increase by a quarter.. We can't expect people to travel miles and miles to South Molton or Bideford. Now is not the time to lose our valued front line community services. As well as making our voices heard to Government we are also petitioning and writing to the CCG, and I'd urge local people to join us."