Bath: Confused Baby Swans Rescued
13 November 2014, 11:54 | Updated: 13 November 2014, 12:22
Police Community Support Officers in Bath can encounter any manner of things while on patrol, but confused swans has to be one of the rare ones.
In a scene somewhat similar to the Simon Pegg film 'Hot Fuzz', PCSOs Ashley Bintcliffe (left) and Mike Symonds (right) were called out to rescue two cygnets in St. Mark's Road, Widcombe.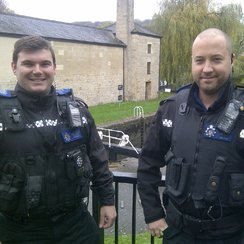 Coloured cones were placed around one of the birds, which appeared to be dozing next to some parked cars.
The other, not photographed, had landed in the railed cemetery area beside the church, but could not fly out.
Mike said: ''We've had to deal with swans a couple of times before so we knew how to handle them. We put blankets over their heads and bodies to pacify them, then we lifted them and carried them to the canal nearby.''
Ashley said: ''They were young birds but pretty big and strong. Luckily they stayed quite calm, although one tried to give me a good pecking and the other left Mike needing a change of trousers.
''They seemed happy enough to be back on water and soon paddled off.
''Hopefully they'll stay off the roads in future.''
Main picture courtesy of Anthony Grimley @antinbath