Bath: Jane Austen Waxwork Revealed
9 July 2014, 15:35 | Updated: 9 July 2014, 15:36
The first ever waxwork with what is claimed to be the most accurate likeness of author Jane Austen has been revealed at her museum in Bath.
Forensic artist, Melissa Dring, was commissioned by the Jane Austen Centre. She spent over a year researching letters, diary entries and writings about the writer in order to find clues about her physical appearance.
Although Jane is one of the most famous writers of all time, there is no official portrait of her. In fact she was only sketched once by her sister Cassandra. Ms Dring thought the drawing did not reflect Austen's witty personality, a quality that was always mentioned by her loved ones.
Melissa used her research to create one final portrait of the writer that was used by the waxwork sculpter, Mark Richards, to bring Jane to life.
Richards, who has also sculpted the Queen and Prince Phillip, said: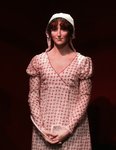 "It was the first time I had done anything like this, trying to understand and interpret what came out of the forensic work.
"We all have an image in our heads of what we think she looks like so I had to completely forget that."
Standing at between 5,6" and 5,7" Austen was tall for her day, which is reflected in the waxwork. The statue is made from clay and fibreglass for strength and she wears a special corset to give her shape.
The author's clothes were designed by Bafta and Emmy award-winning costume designer Andrea Galer.
According to Jane's family and friend's records, she always wore a bonnet both indoors and out.
There are hopes that this will become the official image of Jane Austen and there is also the possiblity of Melissa's portrait being used on new £10 notes.