First Bus: Fairer Fares For All Roadshows
7 February 2014, 11:33 | Updated: 7 February 2014, 11:35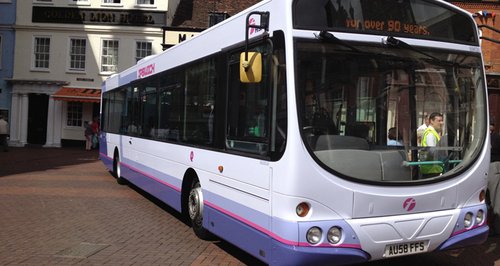 A series of 16 customer roadshow events are being held to support the 'Fairer Fares For All' fare consultation that bus company First West of England is currently running.
Taking place at locations across the West of England over a three week period, the events are designed to give bus users - and non-users - a focal point for questions regarding the review which began on 1 February.
They will also give people the opportunity to take part in the consultation, by either picking up and taking away a questionnaire or filling one out there and then.
A team of people from the bus company will be in the following places on the following dates, answering questions regarding the scope of the review and handing out consultation questionnaires.
Monday 10 February: Bath Bus Station from 8am until 6pm
Wednesday 12 February: Midsomer Norton High Street (near Town Hall) from 9am until 12.30, then Keynsham High Street (Junction of High Street/Charlton Road), from 1.30pm until 5pm
Thursday 13 February: Wells Town Hall from 10am until 4pm
Saturday 15 February: Bath City Centre (Old Bond Street, near Russell & Bromley) from 9am until 5pm
Monday 17 February: Yate Shopping Centre (near Boswells Cafe) from 9am until 12.30pm then St Mary's Centre in Thornbury from 1.30pm until 5pm
Wednesday 19 February: Trowbridge (Shires Shopping Centre) from 9am until 5pm and Melksham Town Hall (Foyer), from 2pm until 5pm
Thursday 20 February: Worle Sainsburys from 2pm until 6pm
Friday 21 February: Clevedon (Queens Square) from 9am until 1pm
Monday 24 February: Weston-super-Mare (Italian Gardens / High Street) from 10am until 4pm
Wednesday 26 February: Street (Parish Rooms) from 9am until 1pm then Frome (Scott Road, near WHSmith and Boots) from 2pm until 5pm
Thursday 27 February: Nailsea (Somerset Square), from 9am until 1pm then Portishead (Library) from 2pm until 6pm
For those unable to make it to a roadshow event, the consultation questionnaire can also be completed online at www.firstgroup.com/fairerfaresforall. Hard copies of the survey can be picked up on buses, in selected libraries, from First Travel Shops and from Council One Stop shops (from 8 February, while stocks last).
Separate consultation events are being organised for the regions councillors, which MPs will also be invited to attend.
The specific dates of these events will be confirmed in due course. The roadshow events are part of the Fairer Fares for All bus fare consultation that First West of England recently announced it was holding.
The review began on 1 February and will run until 16 March 2014, looking at all First West of England services outside of Bristols inner zone, with people in Bath, Cheddar, Chepstow, Chipping Sodbury, Chippenham, Clevedon, Dursley, Frome, Glastonbury, Midsomer Norton, Nailsea, Portishead, Radstock, Salisbury, Saltford, Street, Thornbury, Trowbridge, Wells, Weston-super-Mare and Yate, along with many other places in between, asked to take part in it. The consultation follows a similar review of bus fares in and around Bristol last year, which lead to radical changes being made to bus fares in the city last November.
For more information about the Fairer Fares For All consultation, log onto: www.fairerfaresforall.co.uk.