Bath: Grieving Mum Of Melanie Road Appeals For Help
5 June 2014, 08:49 | Updated: 5 June 2014, 09:04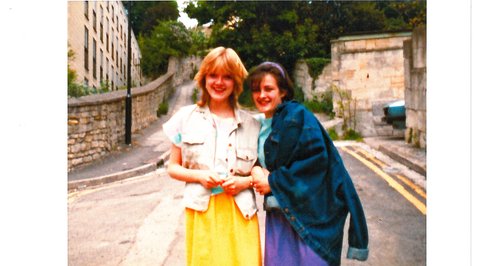 The grieving mother of Bath teenager Melanie Road, who was found murdered nearly 30 years ago, has made an emotional appeal to the people of Bath to help catch her killer.
Jean Road, who is now 79, has written a personal letter that is published today, June 5, to mark the forthcoming anniversary of Melanie's death on June 9, 1984.
She says: ''I beg the people of Bath to search their memories,this whole episode in our family has torn us apart – not sure if it will ever heal. We mourn for our daughter and sister Melanie every minute, hour of the day and night. ''If you were anywhere near the area in which Melanie was found or walked that fateful night, and you know of anything suspicious happening then please I beg you come forward and tell us.''
Melanie's sister Karen Road has also made a statement. She says: ''Melanie Road, my little sister, died a horrific death in 1984 and her murderer has never been caught. As much as this was 30 years ago, for me, it's every day and it never gets easier, and I can't move on. The pain remains as strong today as it did when Melanie died. When this nightmare started, three decades ago, I never believed I would still be appealing for information to find her murderer. Melanie's last night was an unbelievable, horrific experience and this monster should not be able to get away with it. This man has to be found and tried, and should not be walking around free. I believe someone out there knows something. If you have any information, no matter how small please come forward, even if you think it's irrelevant. I ask you to imagine it was your little sister and feel the way I feel, knowing there is someone who knows, but for whatever reason has decided not to help. Finding the man who killed my sister won't bring Melanie back, but she deserves justice and I want to begin recalling happy memories of Melanie, rather than continuing this torment. I want closure, for the pain to go and to be able to move on, and for this nightmare to end.''
Detective Inspector Julie Mackay, leading the murder inquiry, has revealed new evidence from a witness who saw a man and a young woman, probably Melanie, arguing at the top of St Stephen's Road in Lansdown on the night she died.
She said: ''We think that man was local and that he knew Melanie. He is described as white, around 5ft 11ins tall, of slim athletic build, aged between 20-30 – which makes him 50-60 now – wearing dark clothing and with longish dark hair over his collar.''
She has also released new family photos of Melanie near her Lansdown home in 1983, one with a friend Suzy Heap.
The murder team are carrying out a major review of the case to try to identify Melanie's killer. They are contacting hundreds of people across the country and overseas, asking them to provide DNA samples that could provide vital information and lead police to the person responsible.
Det Insp Mackay said: ''We have a full DNA profile of the man we believe is responsible. We are now cross-checking that DNA with that of all people with links with Melanie or who we know were in Bath at the time and may be of interest.
''It is a long and laborious process but I believe Melanie's murderer is within that group.''
In Bath this Saturday and Sunday, June 7 and 8, murder inquiry officers and neighbourhood police will be appealing for information directly to people in the city centre.
A Community Contact police vehicle will be parked by the Roman Baths, with posters and leaflets about Melanie. Anyone who can help is asked to call the Major Crime Investigation Team on 101 or via Crimestoppers on 0800 555 111.
If you have anything to tell us, you can do so online at www.avonandsomerset.police.uk/tellus