Downton Star On His Bike
28 August 2013, 10:54 | Updated: 28 August 2013, 12:25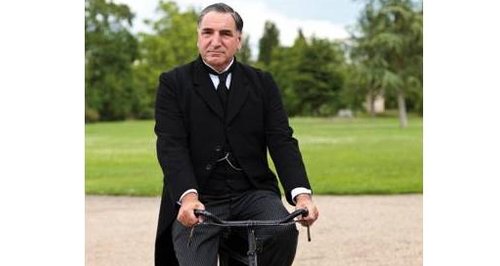 Downton Abbey star Jim Carter's taken part in a cycle ride from St Neots to Bedford.
The actor (pictured), who plays butler Charles Carson in the ITV drama series, rode between the two towns on Wednesday 28 August 2013. The ride was part of Pedal On UK, a 1,000 mile cycle tour trying to recreate the spirit of the Olympics.
The ride followed new cycle routes. Jim was accompanied by a group of volunteer cyclists.

Pedal On UK is a UK-wide series of community festivals organised by charity Sustrans and back by the Big Lottery Fund's Keeping the Spirit of 2012 Alive campaign.

Jim said: "The hardest part of riding a bike is getting it out of the shed.

"The minute I'm on my bike and start pedalling - the world suddenly seems a much better place

"I support the wonderful work of Sustrans and can't wait to join in the Pedal On UK bike ride.

"I would urge anyone who has been thinking of getting their bikes out of mothballs to pump up their tyres and join in. You are guaranteed to feel better afterwards.''
Video: Jim Carter and other cyclists arriving in Bedford after their ride from St Neots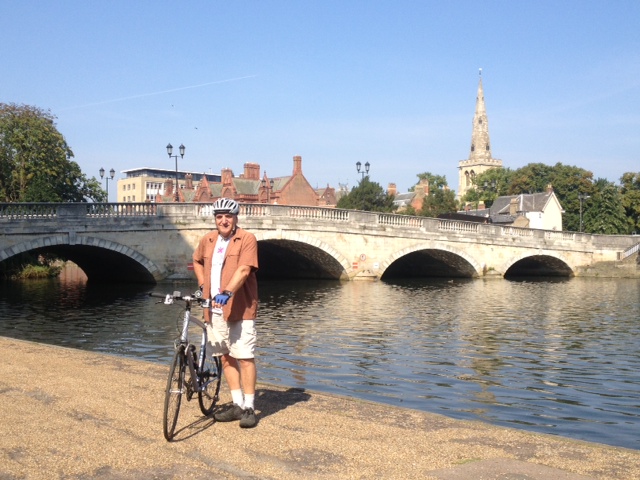 Pictured: Jim Carter next to the River Great Ouse in Bedford, after his cycle ride
Sustrans say this event was to celebrate new walking and cycling routes in St Neots, including the Willow Bridge. The landmark structure crossing the floodplain links Eaton Socon with Eynesbury and opens up a huge riverside traffic-free circuit for walkers and cyclists near to the centre of St Neots.
Pedal On UK is continuing around the country and will see events in cities and towns including Birmingham, Belfast, Newcastle and Glasgow.
Downton Abbey will return to ITV in the autumn for a fourth series.