Prince Charles Visits Bedfordshire
3 December 2013, 14:09 | Updated: 3 December 2013, 14:45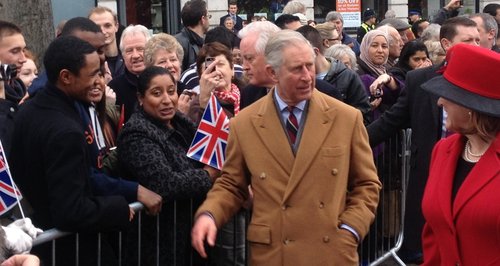 The Prince of Wales has been in Bedfordshire visiting Bedford, Tempsford and Broom.
Heart joined him in Bedford where he went to The Higgins Art Gallery and Museum and St Paul's Church where they were holding their annual Christmas Tree Festival.
At The Higgins he saw watercolour paintings and met school children dressed in Victorian outfits.
He was also given a gift by Bedfordshire lace makers of a Christmas bauble decorated in lace.
He walked from The Higgins to the church where he was greeted by hundreds of people waving flags and taking photos- he stopped to talk to some along the way.
Inside the church he was shown around by the Bishop of Bedford.
There were around 60 Christmas tree's decorated by local community groups and schools.
There was also a choir of school children singing Christmas Hymns.
Leaving Bedford he went to a service of dedication at The Wheatsheaf Pub in Tempsford for women who flew out of RAF Tempsford.
He then met factory workers at Jordan's Mill in Broom.