Protests At Bedford Hospital
26 July 2013, 18:10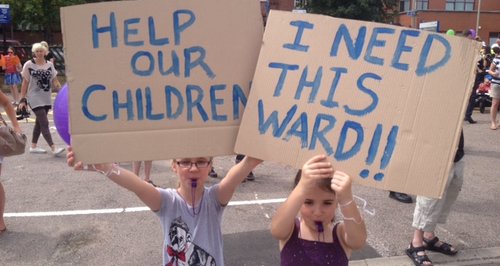 Around 200 parents and children have protested outside Bedford Hospital over cuts to Paediatric care.
In less than a weeks time the Riverbank Ward will no longer see children who need major or overnight care.
Some of the parents protesting said their children have received good care on the ward in the past and want to keep their local service.
They're now being told to go to other hospitals in the region like Milton Keynes General or the Luton & Dunstable.
Mother Fiz told Heart she thinks there could be lives lost:
"Once I had to call an ambulance for my daughter Poppy and we had to wait 45 minutes for the ambulance to arrive, my concern is 45 minutes for an ambulance then 45 minute to Milton Keynes General Hospital that is the death of a child potentially"
Bedford Hospital's Chief Exec Stephen Conroy says he understands parents concerns and supports the protest.
But he told Heart they wont make a difference:
"We don't have enough doctors left in the hospital once the trainees leave at the end of July- its a temporary thing in the terms of trainees being withdrawn we need to start thinking about the future and how we get the trainees back and what services we can provide on site so I very much think the parents and the protesters can have an input into what they think should be on the site in the future"