Man Charged Over Three Oxfordshire Fires
17 January 2015, 11:02
Major Oxfordshire Fires | Latest Video
01:17
A man has appeared in court charged over a spate of arson attacks.
Update On Saturday
Andrew Main, 47, of Roke Marsh Farm, Roke, Wallingford, appeared at Oxford Magistrates' Court in connection with fires set in south Oxfordshire in the early hours of Thursday morning.

He is charged with two counts of arson with intent to endanger life and two counts of arson reckless as to whether life was endangered.

The charges relate to fires in Crowmarsh Gifford and Roke Marsh Farm. The South Oxfordshire Council offices, a funeral parlour and a thatched cottage were targeted, along with a building at the farm.

Main, who appeared at the short hearing wearing a plain grey tracksuit, nodded when asked if his personal details were correct.

He was remanded in custody to appear at Oxford Crown Court on January 30.

Reaction On Thursday And Friday
Pensioner Jean Gladstone, whose thatched cottage was destroyed, has described her relief that no-one was injured.

The 80-year-old escaped from her home in Quakers Corner, Roke Marsh, unharmed during the blaze, which began at around 3am. Almost half of the property was burned down, including the thatched roof.

Expert fire investigators are examining the charred remains to find out exactly what happened.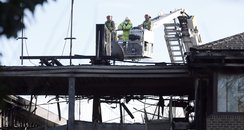 Just over 24 hours after the fire, Miss Gladstone stood outside the property with a beaming smile, chatting to police officers while they maintained a cordon around her home.

"I just want to thank all my friends,'' she said. "I was very fortunate. We are thankful that everybody is safe.''

Miss Gladstone, who has lived in the cottage for nearly 40 years, went on: ``I don't want any publicity. It's a fabulous village. They are all friends. It's a family here.
"People have been amazing, offering beds and everything.

"The only thing I took out of the house was a lovely bunch of flowers, simply because they were there as I rushed out.''

When asked how she was feeling, she laughed and said: "I'm absolutely in top gear.''
Firefighters launched a massive operation involving 27 crews to control the three blazes, which started within 10 minutes of each other.

The first blaze was at Miss Gladstone's home, followed by a second at Chadwick Howard Funeral Service in Benson Lane in the village of Crowmarsh Gifford.

The third happened when a car crashed into the office of South Oxfordshire District Council - also in Benson Lane - before it burst into flames.

The vehicle is suspected to have contained gas canisters.

Sandra Chadwick, a partner at the funeral parlour, said: "It looks as if all of our office premises are totally smoke-damaged and all the furniture in our arranging room has gone.

"We have got bodies in the premises but they are all safe. They are all contained in the rear of the premises which has been untouched by the fire.

"We would like to reassure our families that their loved ones are safe.

"Thank goodness no-one was hurt. I'm devastated, but I'm so relieved that it wasn't any worse. We will carry on.''

South Oxfordshire District Council, which shares its office and operations with Vale of White Horse District Council, described the damage as "extensive'', adding that most of its services, including housing and planning, have been affected.

Attempts were being made to re-house its 400 staff.

A council spokesman said: "We are putting our business continuity plan into place to make sure the effect on the most important services is kept to a minimum.''
This was the statement Thames Valley Police gave outside the council offices:
This is Heart's Kate Gibson talking to a neighbour at the Council Offices