Avon And Somerset Drink Drive Arrests - Video
20 December 2013, 15:37 | Updated: 20 December 2013, 15:45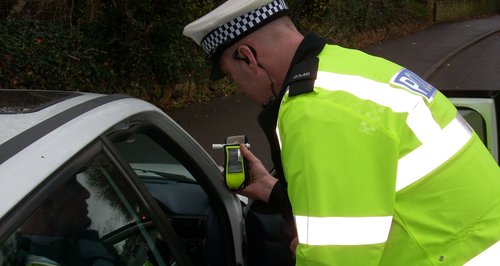 More than 70 people have been arrested so far since the start of this year's Christmas Operation Tonic - Avon and Somerset Police's anti drink and drug driving campaign.
Since the start of December, officers across the force have arrested 71 people on suspicion of drink driving related offences.

The arrests follow a range of policing activity, including high visibility stop check operations and intelligence-led targeted patrols.

22 people have been arrested in Bristol so far while 10 people have been arrested in North Somerset, 10 in East Somerset, 19 in West Somerset, five in South Gloucestershire and five in Bath and North East Somerset.

Many of the arrests have been as a result of information received directly from the public. Stop checks carried out in the evening and early mornings have also led to arrests and one arrest followed a police pursuit near Weston-super-Mare after a motorist driving erratically failed to stop.

Chief Inspector Yan Georgiou said:
"I am grateful for all the information that has been supplied by the public to date. The role of local people is extremely important in helping us to crack down on anyone getting behind the wheel of a car when they have been drinking or taking drugs and posing a serious threat to other road users.

Throughout Operation Tonic we are responding to information the community has given us, aiming to put ourselves where the community has said we need to be and at the times we need to be there and making a number of arrests as a result.

As we head towards Christmas and beyond we will be continuing our activities and this will include stop checks early in the mornings. Motorists need to ensure they are not drinking and driving home but also that they are not over the limit the following morning.

The aim of this operation is to combine enforcement with education to help to ensure everyone has a safe and happy Christmas."

A trauma doctor who treats victims of road traffic collisions has pledged his support to Operation Tonic. See the video about why Dr Benjamin Walton, the lead consultant for the Major Trauma Centre at Frenchay Hospital, is supporting the campaign here:

Police are urging anyone who has concerns about someone they believe may be drink or drug driving to call them on 999 or text the word drunk and as many details as you can to 81819.