Bristol Zoo: Baby Hippo Arrives At Zoo
28 February 2014, 06:00 | Updated: 28 February 2014, 09:36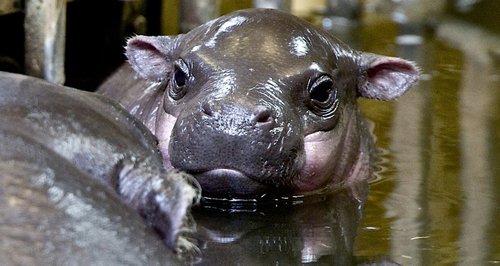 Bristol Zoo Gardens has announced the arrival of a baby pygmy hippo.
The youngster, who has been named Winnie, is three weeks old and joins parents Sirana and Nato in the pygmy hippo exhibit.
Winnie is enjoying exploring the exhibit and using the heated pool. Like any baby, Winnie can often be seen resting at the moment and is never far away from mum Sirana, who is proving very maternal with her new-born.
Lynsey Bugg, Bristol Zoo's Assistant Curator of Mammals said:
'Winnie follows Sirana a lot. Sirana is very protective and doesn't let her stay in deep water for too long. Young hippos tire easily and Sirana will quite often guide her baby into shallow water or bring her out of the pool.'
The pygmy hippo is threatened in the wild, where it is thought less than 2,000 of these animals survive. In Liberia, destruction of forests surrounding the Sapo National Park by logging companies is damaging one of the few remaining strongholds for the pygmy hippo. Bristol Zoo Gardens is part of an international captive breeding programme for the pygmy hippo.
Lynsey continued:
'The European programme is a well-established and very successful programme and our male, Nato, is a genetically important animal; by default, so will be his offspring.'
In the wild, females usually breed once every two years. A single youngster is born, after a gestation period of about six months. The baby weighs between 4.5 and 6.2 kgs and is unable to walk very far at first. Its mother conceals it in thick cover, visiting it to feed it. After three months it is able to feed on vegetation.
Pygmy hippos are, as the name suggests, much smaller than the common hippopotamus, with proportionally longer legs, a smaller head, less prominent eyes and ears more towards the side of the head. The pygmy hippo's nose and ears can be closed underwater, an adaptation to aquatic life.
Bristol Zoo Gardens is a conservation and education charity and relies on the generous support of the public not only to fund its important work in the zoo, but also its vital conservation and research projects spanning five continents.