Bristol: Banksy Strikes In Home City
17 April 2014, 11:54 | Updated: 17 April 2014, 11:59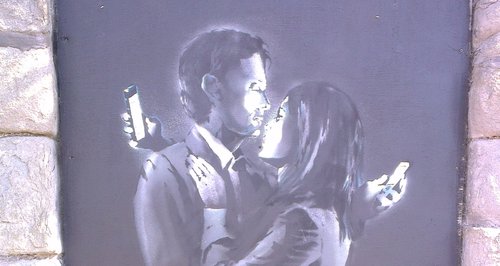 A Banksy work called 'Mobile Lovers' is now in the hands of the City Museum and Art Gallery in Bristol.
It appeared on a fence near M32 earlier this week, but was removed by the man who runs a youth club nearby - Dennis Stinchcombe claimed that Banksy had wanted the hard-up club to make money from it.
The Mayor of Bristol George Ferguson said:
"I'm delighted pleased that Dennis, who is a good man, has made a tough judgement call and has turned over the artwork to us, via the police. No-one's the bad guy here; we simply need to buy time to establish where ownership lies, what Banksy's intentions might be, if we were to get some signals, and how best we can move forward.

I have established with our legal and museum services that we can move ahead on this basis so that, hopefully, it will be on show for people to enjoy at the City Museum and Art Gallery over the Easter weekend. It certainly would have been a cultural crime if this artwork had been lost to the city.

I'm also asking if Banksy could provide a limited-edition print which could be sold in aid of the club. In the meantime we shall be working with a local publisher to produce postcards and prints for sale in aid of Broad Plain Boys' Club. And I have asked for a collection box at the museum for them. This hopefully will represent a win-win for everyone."
The picture of a couple embracing while looking at their mobile phones appeared in Clement Street on sunday and was posted on the artist's official website on Monday. Banksy gave no information about the location of the image, leaving fans around the world searching for its whereabouts.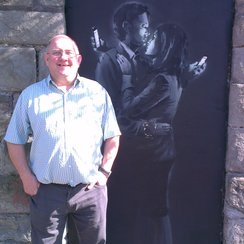 One of the first people to see the image was Dennis Stinchcombe, 58, [pictured above]who runs a nearby youth project. On Tuesday he arranged for the piece to be taken down and moved to a secure location. He's told Heart that he believes Banksy put the work close to his youth centre so that it could be used to raise funds.