Bristol: Family Tribute To Freddie Hussey
29 January 2014, 13:34 | Updated: 29 January 2014, 13:41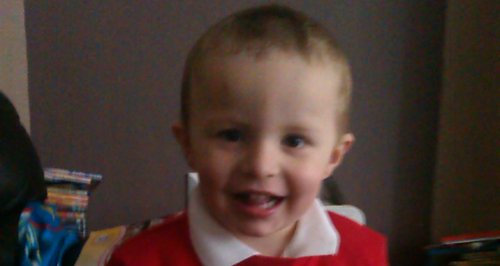 A three-year-old boy, who died after a collision in Bristol, has been named as Freddie Hussey.
He died in hospital following the collision on Hastings Road, Bedminster at around 10.15am on Monday.
It's believed he was hit by a trailer that had become detached from a Land Rover.
In a statement released through Avon and Somerset Police, Freddie's Parents Donna and Scott and brother Archie said:
'Everyone loved Freddie, he could melt you with his cheeky smile. He was always a happy boy and loved going to the park and to feed the ducks. He was obsessed with muddy puddles and sticks and everywhere we went he would be picking sticks up.
'He was just your average three-year-old, well he was more, he was amazing. Freddie doted on his big brother. He had just started nursery and was so proud to put on the same uniform that Archie wore.
'He loved copying his big brother and they complemented each other with everything. If one was playing with a toy the other would go and join in. Like all brothers they would be fighting one minute and then five minutes later they would be kissing and cuddling.
'He really liked rugby and even though Archie was seven, Freddie would tackle him and run at him with a rugby ball. That morning Freddie had given Archie the biggest hug when we dropped him at school.
'When he was being cheeky we used to tell him off and then he would sulk but to get out of trouble he used to just look at us and he had the cheekiest smile.'
Donna said one of her favourite memories of her son was how he used to sit and play with her:
'Freddie used to just sit with me and play with my hair,'' she said. He twirled it around his fingers and it would drive me mad but then he would say 'I love you mummy' and squeeze me.'
The family said Freddie loved Broad Plain RFC, based in Bedminster, and used to call the club his garden as he would play in it in all weathers.
Broad Plain RFC will be organising fundraising in memory of Freddie.
Police are continuing to investigate the incident and have appealed for witnesses to come forward.
A spokesman for Avon and Somerset Police said:
'The driver of the Land Rover involved and witnesses were being spoken to as part of inquiries.
'The vehicle will be examined as part of this work but this is a common line of inquiry with any serious collision.
'This work will establish the cause of the collision but it is expected to take some time and there are unlikely to be any further developments in the next few days.'
Anyone with information about the incident is asked to contact the force on 101.