Bristol 10K Registration Opens - UPDATE
1 January 2015, 06:00 | Updated: 5 January 2015, 12:38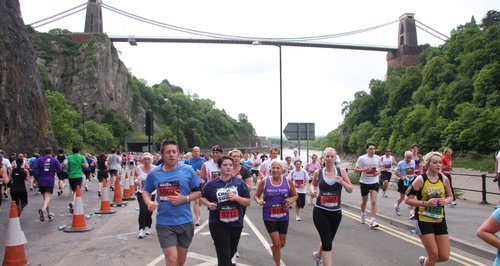 People are being encouraged to take a positive stride into a healthier, happier New Year by entering the Bristol 10k race taking place on 31 May with online registration open at midnight on New Year's Eve.
A fast, flat course means a personal best could be within reach so would-be runners and seasoned athletes can set personal goals and beginners can start-off walking and jogging to build speed and stamina.
Anyone signing up for the 2015 Bristol 10k can make a big difference; not just by getting fitter and healthier, but also helping to raise thousands of pounds for official race charities CLIC Sargent and COCO.
Business challenge sponsor Clarke Willmott has extended their invitation for participants in this year's Clarke Willmott Team & Business Challenge. The challenge encourages friendly competition between teams of between four and six individuals and is now open to groups of friends and family as well as work colleagues and business teams.
Race Director, Georgette Van Hoof said:
"It will be the Bristol 10k's eighth year and we are pleased to be bringing such a popular race, which helps to raise thousands of pounds for charity back to the streets of the city. This year runners can sign up for a New Year, two race, special offer and book a place in both the 2015 Bristol 10k and 2015 Bristol Half Marathon - which takes place on 13 September, making a saving of £20.
Online registration opens at midnight on New Year's Eve, so anyone making a resolution to be healthier in 2015 can start straight away by taking a positive step and registering.
If you are looking increase your fitness levels or aiming to set a new personal best time, entering the Bristol 10k is a positive commitment and will give you something to aim for.
If running isn't your thing but you still want to make a difference and get involved, then becoming a race volunteer marshal with the race's official charities is a great way of doing that."
Specialist training sessions will be on offer to support pre-race preparations and individuals will have access to expert advice and guidance from runbristol coaches and support from partners at Bristol University.
To register your entry or sign up for the two race offer and find out more information on the Clarke Willmott Bristol 10k Business & Team Challenge or volunteering opportunities, visit the runbristol website: www.runbristol.com.