Bristol: Mum Who Died On M32 UPDATE
13 January 2015, 17:15 | Updated: 16 January 2015, 10:38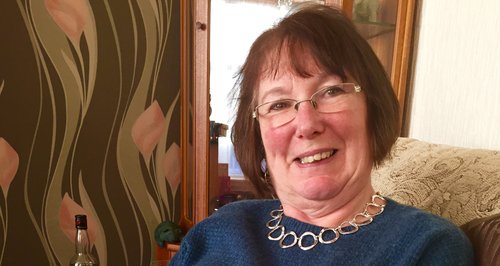 The woman who died after a lorry fell on top of her car on the M32 has been named as 60 year old Lorraine Mckeag from Dundry.
Lorraine died at the scene of the incident which happened at around 10.45am on Tuesday (13/1/15) at the roundabout of junction 19 of the M4 and junction one of the M32.
Her family have described her as "selfless, loyal and loving" in a tribute released today. Her son James has already said on Facebook he has lost his 'mum, best friend, mentor and cheerleader'.
This full tribute to Lorraine from her family has been sent to Heart: "Lorraine Dyer was born on 6 May 1954 in Bristol to Roy and Joan. Her sister Shelley was born 18 months later. Both sisters studied at St Gabriel's Junior School followed by St George Comprehensive School.
"Lorraine left school at 16 to work at Bristol Reference Library, where she stayed for her whole career until retiring last summer. She met her husband Harry and they lived in Kingsdown before marrying in 1987.
"They moved to a small village just outside Bristol before giving birth to their only son James in 1990. They quickly became a popular and well established couple in the village, noted for their work with the parish council and local primary school.
"Harry had a serious and debilitating stroke in January 2004, after which Lorraine dedicated her life to maintaining a close and happy family.
"Her popularity grew within the village year on year, and she was well known across the Chew Valley for her two golden retrievers and tireless help and support to all.
"Harry sadly passed away in November 2012, but Lorraine was determined to make the most of her retirement - until it was tragically cut short in such unforeseen circumstances.
"Lorraine will be missed immensely by her son, sister, family and friends and will be remembered as a wonderful cook, who would welcome anyone and everyone into both her home and life with open arms.
"The most selfless, loyal and loving character imaginable, she tackled life's difficulties with a rare and at times unbelievable determination, always putting the happiness and wellbeing of others above her own..
"To know her was an absolute joy, and it will bring sadness to the many people around the world who had the privilege of knowing her."
Lorraine's son James is running three marathons in her memory including Paris on April 12, Manchester on April 19 and London on April 26. https://www.justgiving.com/James-Mckeag/
Money raised will go to the Stroke Association, which helps both victims and carers of strokes during the long and difficult rehabilitation process.