Elephant Arrives At Noah's Ark Zoo Farm
10 November 2014, 15:09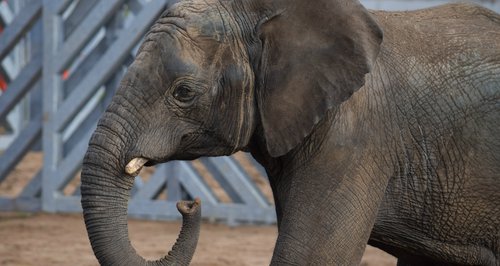 A 6 year old bull elephant from Sweden has arrived at Noah's Ark Zoo Farm in Bristol today after travelling 2000km by land and sea.
The young African bull elephant called 'M'Changa' from Boras Zoo in Sweden arrived during the evening of Friday 7th November at Noah's Ark's 'Elephant Eden' habitat after the epic journey in a specialist animal transport vehicle.

A long eventful journey, including severe traffic problems in Hamburg, Germany and a delayed ferry crossing from Calais due to bad weather, ended peacefully at Noah's Ark under the cover of darkness with Keepers from both parks celebrating a successful move for M'Changa. M'Changa was carefully unloaded in the daylight on Saturday morning, with the young elephant keen to stretch his legs and explore his new home.



The transfer is the result of a long consultation period with advice from elephant experts and the European Endangered Species Program (EEP). M'Changa will be cared for at Elephant Eden which is a large specially designed habitat built within the 110 acre park at Noah's Ark Zoo Farm. He will benefit from the new technology designed to offer African elephants the very best in health care and management.

The vast enriched habitat has been labelled a "five star destination for elephants" by well-known international elephant management consultant Alan Roocroft due to its revolutionary design.

M'Changa, who weighs 1.5 tons, will join 30 year old female Buta and 9 year old male Janu at Noah's Ark now as the project continues its development. A fourth elephant, a big mature bull called Kruger, is also set to join the growing herd before the end of the year from Port Lymne Reserve in Kent.

Female African elephant Buta arrived at Noah's Ark in February from Knowsley Safari, Merseyside and is on loan to Noah's Ark.

Energetic 9 year old bull Janu is also on loan from Port Lympne Reserve in Kent (part of the Aspinall Foundation, a conservation-led charity) and will be followed by Kruger on loan from his owners Knowsley Safari.

The decision to move each elephant to Noah's Ark was agreed by all parties with the welfare and long term future of each animal the primary focus.



Elephant Eden is the largest elephant habitat in northern Europe at 20 acres (8 hectare) and promotes welfare advances for the care of these complex mammals.

Visitors to Noah's Ark Zoo Farm will be able to see Buta and Janu as usual. Viewing of M'Changa will be limited during the first few days to give him time to settle into his new home in peace. Visitors are advised to telephone before travelling for more information about viewing the elephants if they are visiting to see M'Changa.