Flotilla Of Boats In Bristol Woodland
4 November 2014, 12:13 | Updated: 4 November 2014, 12:27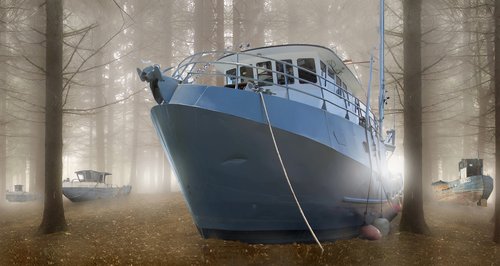 Renowned Bristol artist Luke Jerram and the National Trust have announced details of the landmark art project, Withdrawn, which is funded by Arts Council England as part of the Bristol 2015 European Green Capital programme.
From April 2015 Luke Jerram invites visitors to Leigh Woods to experience an unexpected encounter with a flotilla of abandoned fishing boats installed in the depths of the woodland.
This thought-provoking and engaging installation raises discussion about climate change, extreme weather, changing ocean temperatures, falling fish stocks and our impact on the marine environment. The installation is designed to provoke a number of questions: How did the boats arrive there? What stories do they bring with them? Ponder their history and consider the impact of human behaviour on our oceans and waterways.
The National Trust, which cares for part of Leigh Woods, is working in partnership Forestry Commission England to make Withdrawn open for the public to explore for six months. The boats will be the focus of a series of special marine and environmental events, performances and interactive workshops, staged both in the daytime and at night.
The project has been commissioned by the National Trust's Trust New Art Bristol contemporary art programme and is being delivered in partnership with Forestry Commission England's Forest Art Works programme as part of Bristol 2015.
It is one of six arts projects funded by the Arts Council England Exceptional Fund as part of Bristol's year as European Green Capital, to help make sustainable living accessible and easy to understand. The Bristol 2015 arts and culture projects are being delivered by national portfolio organisation the Bristol Cultural Development Partnership (BDCP), and will play a central part in helping people see sustainability in a new light.
Luke Jerram, Artist explains:
"It's fantastic to be commissioned by the National Trust and to work with the Forestry Commission to develop Withdrawn for Bristol2015. This is my latest ambitious and logistically complex arts project. The artwork was inspired by my concerns for the environment and the powerful imagery last winter's floods brought the south west."
Ruth Gooding, Programme Manager of the National Trust's Trust New Art Bristol says:
"This is a landmark project for us and we are delighted to be working with Luke and the Forestry Commission to present this ambitious and inspirational work. With the changing seasons in the wood, we envisage it conjuring up a variety of emotions and bringing the green agenda of Bristol 2015 and the wider National Trust to the fore.
Our many visitors already enjoy exploring this special woodland but they will be very surprised to encounter a flotilla of fishing boats in the mysterious depths of the woodland, and we imagine their unsettling presence will command much intrigue and contemplation. Over the 6 month installation period the boats will also host a varied programme of events and activities – so we hope you will certainly be enticed to visit these ghostly apparitions more than once."
Phil Gibby, Area Director, South West, Arts Council England, added:
"This is an exciting and engaging project from an exceptional artist that we are delighted to see happen as part of the cultural programme for Bristol 2015. The Exceptional award is given to support projects of such ambition and with such national and international impact that it sits outside our normal funding routes. Putting culture right at the heart of Bristol's year as European Green Capital means many people will have an outstanding opportunity to connect with great art that encourages us all to think about the way we live."
The project is subject to a planning application which has been submitted and is awaiting approval.