Knowle West: Two Jailed In Murder Case
12 December 2013, 13:38 | Updated: 12 December 2013, 13:44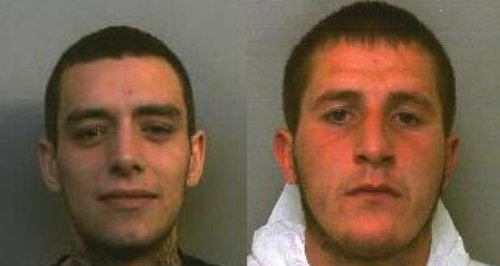 A teenager was jailed for life today for stabbing a 17-year-old during a fight arranged on BlackBerry Messenger.
L-R Nathan Warburton, Lewis Talbot
18 year old Lewis Talbot, knifed Jake Milton five times to his chest, back and arm during the attack in Bristol, which lasted less than two minutes.
He was jailed for life with a senior judge telling him his case demonstrated the dangers of taking kitchen knives on to the streets.
Bristol Crown Court heard Jake travelled to the Knowle area of the city to meet Talbot with whom he had `history' and had exchanged `threatening' messages for months. But less than two minutes after Jake arrived at the scene on the night of June 14 this year, he was lying fatally injured on the pavement having been stabbed by Talbot and best friend Nathan Warburton, 20.
On Wednesday a jury unanimously found Talbot, of Kenmere Road, guilty of Jake's murder, and Warburton, of Lenister Avenue, both Knowle, guilty of manslaughter.
They had both denied murder.
Michael Fitton, defending Talbot, told the court in mitigation:
'We are dealing with a young man who is facing a sentence which may mean in real terms he serves the same period in prison that he has already been alive.'
Talbot was jailed for life and told by Mr Justice Leggatt that he would spend at least 16 years in prison before he could be considered for parole.
`You grabbed a knife you brought with you and lashed out, You stabbed Jake five times in quick succession, including one in the heart.
'The jury, by their verdict, rejected your claim that you were acting in self-defence. The consequences of what you did have been devastating, not only for Jake who has died so pointlessly and needlessly at such a young age, but for his family and friends.
'This case all too well demonstrates the dangers when kitchen knives are taken into the public streets and how too easily it is for an ordinary kitchen knife to be an instrument of death.'
Andrew Langdon, representing Warburton, said:
'There is little or no evidence that he was a prime mover in bringing about this incident.
'He has had a difficult upbringing and was excluded from primary and secondary schools and a special exclusion school.
'He spent the last year of his schooling in custody.'
Warburton was jailed for nine years, with Mr Justice Leggatt telling him: `
't is clear a substantial prison sentence is necessary. Your sentence must reflect that you were in the public street armed with a knife and that you knew Lewis Talbot also had a knife and that he might stab someone.'
Speaking after the case, Jake's parents Nicholas Milton and Tracey Grant said:
'Sitting through evidence in the trial had been unbelievably hard.
'No parent should have to go through this.
'Though nothing will bring Jake back; this verdict must send a strong message to all young people that carrying knives is not acceptable, and that you will be punished severely.'
Detective Chief Inspector Gareth Bevan, of Avon and Somerset Police, said:
'What is clear from the trial is that his death resulted from a background of issues between young people which resulted in the tragic death of one of them.
'Few could have predicted the outcome of the showdown late that evening on Friday June 14 when Jake confronted Talbot and Warburton, who were both armed with knives and used them.'