Lorry Hits Bridge In Bristol
27 June 2014, 13:51 | Updated: 27 June 2014, 13:57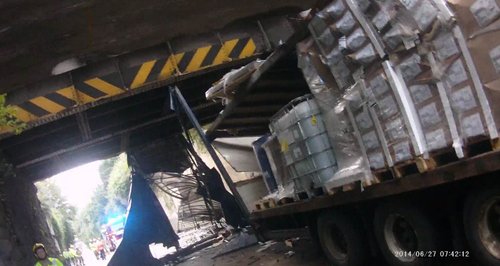 An articulated lorry was in collision with a railway bridge in Bristol on Friday morning.
Police were called to Albert Crescent at about 6.20am after a lorry was in collision with the bridge, causing the canvas cover and frame to be ripped off and left dangling on the bridge.

Sgt Stuart King said:
"This incident caused disruption in the area, including local businesses, a nearby school and commuters as the road was closed for public safety reasons until midday.
I would like to thank the local community for their help and support and patience while we dealt with the incident.

The driver of the lorry has been reported for summons for driving without due care and attention, driving otherwise in accordance with a licence and failing to comply with a traffic sign (height restriction)."