Bristol: Men Jailed Over Ebrahimi Murder - Video
28 November 2013, 15:23 | Updated: 28 November 2013, 16:10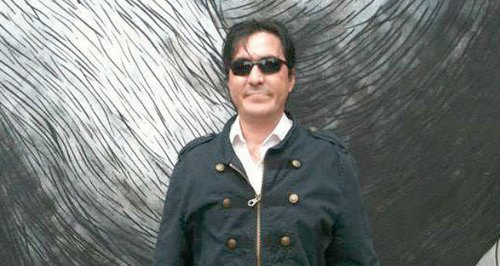 A murderer who killed an innocent disabled man who had wrongly been labelled a paedophile by neighbours in Bristol has been jailed for life.
24 year old Lee James murdered neighbour Bijan Ebrahimi, who was in his 40s, three days after he was arrested by police following complaints that he had been taking pictures of children in the city's Brislington area.

Mr Ebrahimi, an Iranian national, died from head injuries and was then set alight in an attack on July 14. His burnt body was found in Whitmore Avenue, just 100 yards from his maisonette home in Capgrave Crescent.

James was given a life sentence by Mr Justice Simon at Bristol Crown Court and told he would serve a minimum term of 18 years. The judge called it an "act of murderous injustice''.
Residents have spoken of the "anger'' and "hostility'' that was in the air locally when rumours circulated Mr Ebrahimi was a paedophile.

Following complaints that he had been taking pictures of children in the area, he was arrested on July 11 following an alleged breach of the peace after an angry mob had reportedly confronted him outside his home. He was later released.
Later James barged into Mr Ebrahimi's home and told him "he would take the law into his own hands'', an earlier court hearing was told.

"Lee James was the instigator and the perpetrator of what the Crown say was a vigilante attack,'' prosecutor Andrew Langdon QC said.

Neighbours believe it was Mr Ebrahimi's determination to gather evidence of anti-social behaviour, damage to his garden and harassment that, through the false allegations it sparked, ultimately led to his death.


The court was also shown this video that Bijan Ebrahimi has filmed of Lee James drinking outside his home.

James, of Capgrave Crescent, pleaded guilty to murder while Stephen Norley, aged 25 and of Capgrave Crescent, admitted assisting an offender. Prosecutors say Norley helped James drag Mr Ebrahimi's body away from the scene of the attack and had assisted in setting fire to his body by obtaining white spirit.

The judge gave Norley a four-year jail term for "burning the body of a man you knew to be murdered''.

Mr Ebrahimi's family said last month:
"It should not be forgotten that Bijan had been the victim of hate crimes for a number of years before his death, both due to his race and his physical disability. It was for this reason that the police should have taken especially seriously his calls for help in the days before he was murdered.''
The murder investigation was overseen by Detective Chief Inspector Rachel Williams, who was at court to hear the sentences. Speaking afterwards, DCI Williams said:
"Today our sympathy goes to Mr Ebrahimi's family and friends as they continue to adjust to life without him. A number of them were here today and had to sit and watch as two young men were sentenced for his murder. Mr Ebrahimi was killed in a violent and unprovoked attack and we worked quickly to identify the suspects and bring them to justice.
Following a swift but detailed investigation, and with support from the Crown Prosecution Service, we were able to build a compelling case against the two suspects. As a result both pleaded guilty, sparing Mr Ebrahimi's family the trauma of sitting through a painful and lengthy court case.

Today Lee Jamess has been given a life sentence for murder and Stephen Norley faces four years in prison for assisting an offender. Mr Ebrahimi's murder was a tragedy but the actions of these two men do not represent the wider community of Bristol."

The actions of the police in the days leading to circumstances leading to Mr Ebrahimi's death are being investigated by the Independent Police Complaints Commission (IPCC). Three police officers have been served with gross misconduct notices and are currently suspended while a further two have been served with misconduct notices but remain at work. A third officer has subsequently had his misconduct notice rescinded and has returned to work.

Although the criminal investigation has now concluded the IPCC investigation continues and we await their report.

Chief Constable Nick Gargan said:
"We are reminded once more of the terrible and tragic death of Bijan Ebrahimi. This was a gratuitous and vicious attack and our thoughts and condolences are with his family again today. I am grateful to Detective Chief Inspector Rachel Williams and her investigation team who have done their job well, thereby enabling the crown prosecution service and the judge to do theirs.

On the day of Mr Ebrahimi's murder, we knew enough about the police response to convince us that we should make an immediate referral to the Independent Police Complaints Commission. We still await their report and therefore it is not appropriate for me to say more about that police response. It's important that we don't affect that external scrutiny by expressing a public opinion. It could also be the case that criminal proceedings follow and if so a jury needs to reach its verdict based on evidence in the courtroom, not our opinion today.
Nevertheless, notwithstanding that outcome it is clear that there was a collective failure on the part of statutory agencies and others to protect Mr Ebrahimi and we cannot wait for all the various external investigative processes to run their course before we start learning lessons for the future.
We need to have some frank and candid local discussions with our partners and our communities about what we collectively can do to stop this happening again. Senior people in our own organisation have already put in place urgent actions to improve the way we respond to the vulnerable, handle reports of anti-social behaviour and identify repeat callers and victims and we will continue to talk to partners to improve the way we work together to protect the public."
Tracy Easton, CPS Deputy Chief Crown Prosecutor said:
"Bijan Ebrahimi was subjected to a vicious and brutal attack which resulted in his death. Lee James and Stephen Norley pleaded guilty at an early stage for the parts they played in his murder.
This type of violent crime is corrosive to communities and will not be tolerated. The CPS works closely with Avon and Somerset police and will always prosecute where there is sufficient evidence and it is in the public interest to do so.

The sentences passed today reflect the severity of the crime and, while nothing will ever compensate Mr Ebrahimi's family for their loss, I hope the conclusion of this case will at least bring them a degree of closure."

The Mayor of Bristol George Ferguson said:
"I sincerely hope that today's sentencing will at least help bring some level of closure and comfort to Mr Ebrahmi's family and to everyone who has been affected by this tragic case. The council and police have been engaging with local people, many of whom have been understandably distressed. They know that this is an exceptional crime that is completely out of character with their neighbourhood and with Bristol as a whole.
The Safer Bristol Partnership is currently reviewing the case and any contact that the agencies had with Mr Ebrahimi. It is important that both this review and the formal Independent Police Complaints Commission investigation are allowed to continue unfettered.
Once complete they will be made public. Both are expected to report in the first few months of 2014."