Bristol: New Baby Giraffe Arrives
28 June 2014, 21:36 | Updated: 28 June 2014, 21:40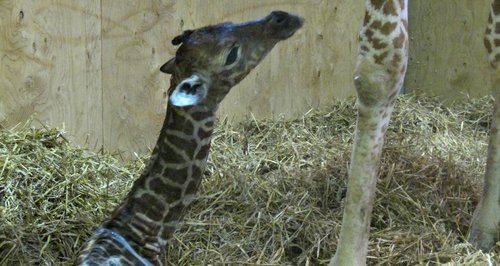 Noah's Ark Zoo Farm has welcomed a baby giraffe who certainly knows how to arrive on cue!
Genny the giraffe is now proud mum to a healthy calf. The cute calf well and truly stole the limelight at the daily Giraffe Talk for visitors at the park on Friday afternoon. At the precise moment Giraffe Keeper Emma Green was explaining to an inquisitive visitor that "we expect the baby anytime in the next 2 days" Genny's waters broke and two little hoofs appeared!

Keepers carefully monitored Genny throughout the birth, putting her safely into her own straw-filled 'private suite' in the peace of the Giraffe House away from visitors as soon as the signs of birth began.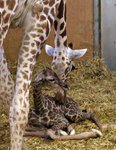 A firm favourite with visitors at Noah's Ark Zoo Farm in Wraxall, Bristol; Genny the giraffe is 6 years old and this is her second calf with proud father, 10 year old Gerald. The two are still very much 'loved up' and delighted to be second-time parents. Their first, mischievous George, was born in 2012 and has just celebrated his second birthday two weeks ago.

Supportive dad, Gerald, was attentive staying nearby throughout the birth. Along with their 2 year old calf George, father and son often leaned their long necks over a partition fence to remind her they were right beside her every step of the way throughout the 2 hours and 20 minute labour.

In another bizarre twist to the story, Giraffe keeper Emma Green was today celebrating starting work at Noah's Ark exactly 3 years ago. On the first day of her promotion to Head Giraffe Keeper 2 years ago; George the giraffe was also born. The arrival of a second baby giraffe today to celebrate the anniversary of her third year of employment at Noah's Ark is more than she could have wished for.

Emma is delighted that everything went so smoothly and said:

"Both mum and baby are doing really well – Genny is a very natural mum! We were delighted to watch her new calf's first steps this afternoon and will monitor the family tonight."

The baby's gender and name will be announced on the Noah's Ark website in the next few days.

The average gestation period for a giraffe is approximately 15 months, and Genny's due date was the 6th July, but the baby giraffe couldn't wait that long to enter the exciting world of Noah's Ark! Giraffes usually give birth standing up and babies are born with their two front hoofs first.

The next few weeks will be a time of exciting exploration for the baby who will be eating solids from birth but will also be reliant on mum's milk for the first 6 to 12 months of her life.