Noah's Ark Tigers Play In The Snow
14 January 2015, 14:10 | Updated: 14 January 2015, 14:34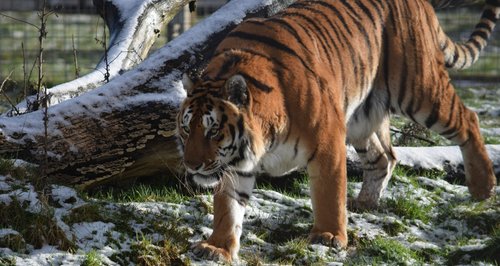 Playful tigers at Noah's Ark Zoo Farm near Bristol enjoyed a January treat today – scented Christmas trees in the snow!
After a dusting of snow in Bristol and parts of Somerset, Big Cat Keepers gave tigers Khan and Tiana Christmas trees each scented with their favourite smells as enrichment.

The trees were donated by Almondsbury Garden Centre who have charitably given the zoo a range of plants, shrubs and trees in recent years to help develop the parks grounds and enclosures.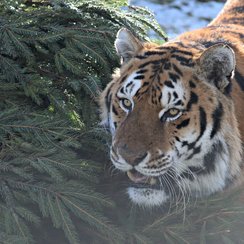 Highly responsive to new smells and objects in their fields, the tigers are known to have a particular liking for fir trees, the pine smell and texture acting as a cat-nip of sorts!
In an added touch, the trees were sprayed with donated perfumes – another unusual favourite scent of the cats. Experimenting with scent enrichment over the years, Head Cat Keeper Emma Godsell found that both cats had a particular preference for female perfumes and would explore their enclosures when these were used.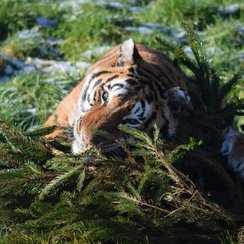 Although amusing to watch, exercises like this for the big cats are actually useful enrichment devices used to encourage physical activity, cognitive engagement and make use of natural scent-following and exploring behaviours. For captive-living animals these behaviours are important to stimulate to keep the animals healthy.
Watched by Almondsbury Garden Centre's Rich Truscott and supervised by Keepers at Noah's Ark, Mr Truscott said:

"I'm pleased we can recycle Christmas trees through Noah's Ark in such a novel way – it's great to be giving the big cats extra stimulation and activity at this time of year and watch them enjoy themselves so much!"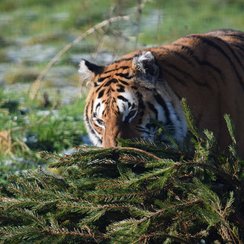 (Images courtesy of and distributed by Noah's Ark Zoo Farm and Dave Sullivan)