Plans Unveiled To Get More People Cycling In Bristol
7 July 2014, 14:39 | Updated: 7 July 2014, 14:53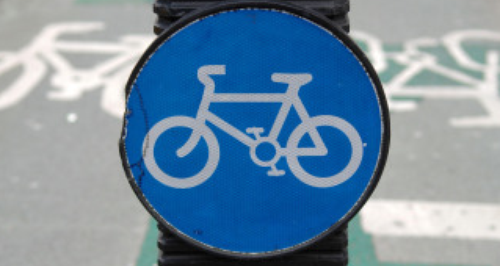 Bristol's first comprehensive strategy to encourage more people to cycle has been published by the City Council.
Available for comments until 11th August, the ambition framework sets out how cycling can be made a simpler, safer and more attractive option for anyone whatever their age or cycling experience.

Currently, although the number of cycling commuter trips has doubled, cycle journeys now make up eight per cent of journeys to work. The strategy sets out a commitment to increase this to 20 per cent by 2020, as well as continuing to invest £16 per head of population per year to deliver cycle improvements.

The new strategy addresses the challenges and barriers that keep people off their bikes or not confident enough to try cycle journeys in the first place. Future investment will be targeted to deliver innovative projects in six priority areas and towards the creation of a safe cycle network across the city.

Assistant Mayor for Transport Cllr Mark Bradshaw said:

"'We can all be proud as a city that the number of people who cycle, either daily or less frequently, has greatly increased over the last ten years, I want to use this strategy to reach out to more groups who think cycling isn't yet for them. Bristol still faces challenges in persuading older people, children, women and disabled people that cycling can be part of lives. So, we must address the barriers to this wider participation which will help meet our transport and health priorities. This strategy sets out how we will work with residents, neighbourhoods, businesses, other public bodies and campaigning organisations to make a further step change in the numbers cycling - a better connected network of segregated, safer routes will be a priority. We will soon make further announcements about delivering this network and ensuring that cycling input to the Council is better coordinated."

Bristol City Council has signed up to be one of seven cities taking part in Sustrans' cycle accounts project to provide comprehensive comparable data on cycling. Sustrans Regional Director Ian Barrett said:

"We know there is massive demand for more people to be able to cycle their daily trips to school, work and other destinations and what's holding many people back is concerns about safety and the quality of routes. Bristol's commitment to build a cycle network that can be confidently navigated by children as well as adults will enable far more people to cycle regularly, with huge benefits for the City's health, environment and quality of life".

Part of the new strategy is a commitment to deliver a more comprehensive and simple network, as set out in the Bristol Cycling Manifesto from the Bristol Cycling Campaign.

"Tens of thousands of ordinary people already enjoy cycling in Bristol", said Eric Booth, Chair of Bristol Cycle Campaign. "There are tens of thousands more who would like to join us, but they need to be confident that it's safe and easy. We warmly welcome this strategy which is in line with our Bristol Cycling Manifesto. We're looking forward to working with the council and local communities on making it happen."
The final strategy will be published in September.