Prince Phillip Visits Bloodhound Project In Bristol
17 July 2014, 18:02 | Updated: 17 July 2014, 18:24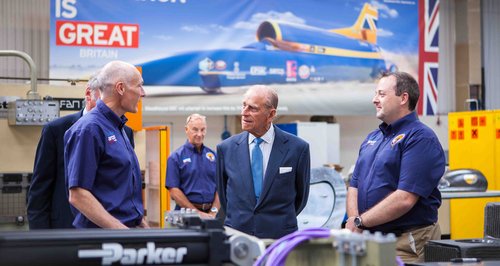 HRH Prince Philip has visited the Bloodhound Technical Centre in Bristol to meet the team designing and building the world's first 1,000mph car.
As the most senior fellow of the Royal Academy of Engineering, Prince Philip has a technical interest in the design, build and running of the Bloodhound Supersonic Car.

Assembly of the Bloodhound SSC is supported by British Army soldiers from the Royal Electrical and Mechanical Engineers (REME). Prince Philip, Colonel-In-Chief of the REME, was particularly keen to meet with each of the four soldiers currently seconded to the team.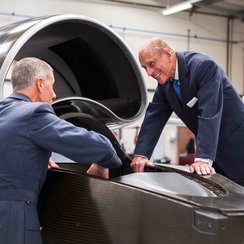 REME Regimental Colonel, Colonel Dan Scott, supporting the visit said:
"Our soldiers bring military engineering experience to Project and return with a wealth of engineering skills from working alongside some of the best civilian aerospace and motorsport technicians".

On his tour the Prince met the entire Bloodhound team, including aerospace and motor sport engineers, the build and education teams and administrative staff.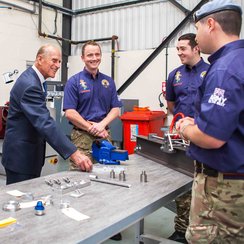 Bloodhound Project Director Richard Noble said:
"We were privileged that the Duke should take time out from his busy schedule to have lunch with the Bloodhound Team. He took the time to talk with every everyone and was particularly interested in the Project's education remit."

The build of the vehicle itself is well advanced with significant milestones being achieved recently, as detailed below. The Project is on-course for the finished car to roll-out for low speed testing (up to 200mph, 321km/h) at Newquay's Aerohub in Summer 2015. Bloodhound will then fly to South Africa's Hakskeen Pan for the start of the Land Speed Record campaign, that Autumn.

Bloodhound SSC may be the most powerful land vehicle in the world, with circa 47,000lbs of thrust, equivalent to the combined output of 180 F1 cars, but going fast is not its primarily role. Rather, it is designed to inspire a generation by showcasing science and engineering in the most exciting and accessible way possible. With aerospace being such an important aspect of the UK economy, and future skills a key concern, government and the UK's high-value manufacturing sector endorse Bloodhound's mission.