Rolls Royce Jobs Blow
5 November 2014, 12:04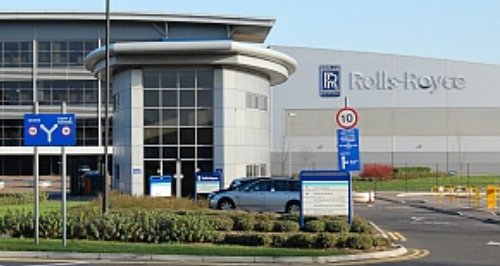 Rolls-Royce has told Heart it will consult staff in Bristol and beyond in the days and weeks ahead about voluntary redundancy, as it looks to cut 2,600 jobs over the next 18 months.
The locations of the job cuts have not been disclosed but it is likely the UK will be heavily impacted as nearly half of the company's global workforce of 55,000 is based in the UK. This includes 3,500 defence engineering roles in Bristol.
The restructuring will focus on the engine giant's civil and defence aerospace operations, which have been battered by tough economic conditions as customer opt to delay or cancel orders.

Chief executive John Rishton also warned that further action may be needed as the company steps up its drive to improve operational efficiency. He said:
"The measures announced today will not be the last, however they will contribute towards Rolls-Royce becoming a stronger and more profitable company.''

The company, which employs about 17,000 engineers, shocked the City earlier this year with a warning that it will fail to grow in 2014 due to the impact of defence spending cuts. It added last month that it expects profits in 2015 will be up to 3% lower as a result of worsening economic conditions. Mr Rishton added:
"We will work closely with employees and their representatives to achieve the necessary reductions on a voluntary basis where possible while making sure we retain the skills needed for the future.''

But the Unite union warned that the company is in "danger of making decisions in the short term that it will later regret''. Unite national officer Ian Waddell said:
"Engineering skills and expertise are already in short supply across the aerospace industry and will be difficult to replace should there be an upturn in business. We will be seeking guarantees over no compulsory redundancies and seeking assurances that the company doesn't turn to casual labour to plug the skills gap in the future, or seek to offshore skilled UK jobs. This is a bitter blow to a proud workforce and we will be doing everything we can to fight for jobs and skills.''

The company has said that it remains hopeful that civil aerospace markets will strengthen over the medium term due to increasing demand for travel in emerging economies and the need to replace older aircraft with new fuel efficient models.

However, it admits that it needs to get costs under control as the company's margins are weaker than its big rival General Electric.

Among its investments, Rolls recently opened a new £100 million facility at Washington, Tyne & Wear, with the capacity to make 2,500 fan and turbine discs a year.

Rolls has customers in more than 120 countries, including more than 380 airlines and leasing firms, 160 armed forces, 4,000 marine customers including 70 navies, and 1,600 energy and nuclear customers.

It said the majority of the planned headcount reduction is expected to take place next year.