Thousands Visit Gromit Unleashed in First Month
1 August 2013, 06:00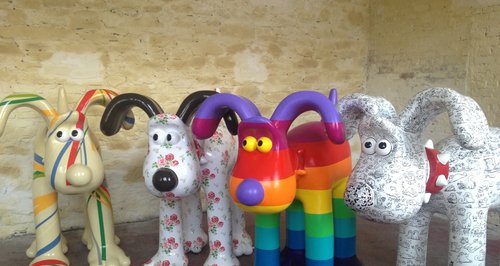 Organisers of 'Gromit Unleashed' have been telling Heart thousands have visited the Gromits since it launched a month ago.
The 80 giant Gromit sculptures took up residence in the area at the beginning of July and will populate the city and beyond throughout the summer until the 8 September.
Nicola Masters, director at the Grand Appeal, said:
'The good weather, the start of the school holidays and the Harbour Festival have brought the public out in force and more people than ever are 'Gromiting' their way around the city!
'We are handling hundreds of Gromit Unleashed enquiries each day and expect visitor numbers to keep rising, with local trail-goers, UK and international tourists all keen to meet the Gromits and support the charity cause.'
The latest round-up of figures show that over 16,000 people have visited The Art of Gromit Unleashed shop at Upper Maudlin Street and copies of the trail map and passport are currently being re-printed due to their popularity.
The Gromit Unleashed shop and Wallace & Gromit exhibition at The Mall at Cribbs Causeway has continued to attract exceptionally high numbers of visitors since it was officially opened by Nick Park and an average of 2,000 people a day are visiting the exhibition.
The trail app, 'Detect-O-Gromit' hit the no.1 spot in the Apple App Store Entertainment chart and no.2 in the Paid app chart on the launch week and to date, over 20,000 people have downloaded the 69p app so far.
The 'Detect-O-Gromit' app provides a complete guide to Gromit spotting and features exclusive audio, film content and achievements to unlock. Within the app 4,000 achievements and trails have been completed, almost 20 people have logged their journey and visited all 80 Gromits and around 700 people have spotted half of the Gromits.
The impact of the trail continues on online and through social media channels. The Gromit Unleashed Twitter feed now has 12,543 followers and the project has also received 28,449 Facebook 'likes.'
Most popular posts include the news that Zayn Malik from 1 Direction has designed a Gromit which was re-tweeted over 36,000 times.
The Gromit Unleashed website has received almost 400,000 visits since the launch event on 28 June. A quarter of the hits have come from overseas, with the majority coming from the US. Other overseas visits have come from Canada, Mexico, Australia, Germany, Italy, Spain and France.
Once the trail has finished all 80 Gromit Unleashed sculptures will be auctioned to raise funds towards Wallace & Gromit's Grand Appeal to support the expansion of Bristol Children's Hospital, one of the leading multi-disciplinary children's hospitals in the UK.