Bristol: Emergency Flood Barriers To Remain In Place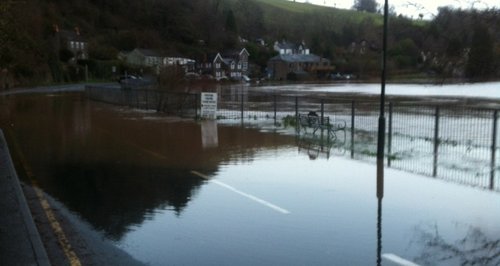 Bristol's emergency flood barriers are to stay in place until Wednesday this week.
Due to the higher than expected tide this morning and in light of the low pressure and storms developing in the Atlantic, together with predicted gale force winds and the high river levels which are being tide-locked, it has been decided to keep the emergency flood barriers located at Avon Crescent and across the entrance at Underfall Yard in place until after the Wednesday morning's high tide.
Bristol City Council's traffic management and civil protection teams will be on standby and will enforce road closures if required at the affected roads:
Cumberland Road from Cumberland Basin to Mardyke Ferry Road
Cattlemarket Road between the A4 and Albert Street.
The river side lane of the Portway from Cumberland Basin until just past Bridge Valley road (the whole of the Portway may be closed if the river rises higher than predicted.)
Crews Hole Road between Blackswarth Road and Lower Cobham road.
Cumberland Basin Car Park will also remain closed during this period.
The footpath along the cut at Cumberland road may also have to be closed.
The High Tide times are:
Mon PM - 2156hrs
Tues AM - 1015hrs
Tues PM - 2233hrs
Weds AM - 1052hrs
A letter drop informing local residents will be carried out this afternoon.
Pedestrians and cyclist are requested not to enter any flooded areas even if it looks shallow due to hidden obstacles, potholes and possible raised drain and manhole covers.
Any residents who do suffer flooding or who find fallen trees or heavy branches should contact Bristol City Council's emergency control centre on 0117 9222050.