Water Main Burst In Kingswood
27 September 2014, 11:46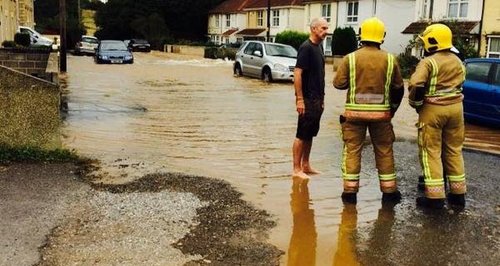 It is claimed up to 10,000 homes in east Bristol still do not have water, nearly 48 hours after a pipe burst in Kingswood.
It happened in Fisher Road at around 5pm on Thursday 25th, and some residents had to be evacuated from their homes as water levels turned the street into a river.
On Saturday morning, Bristol Water warned people that supplies remained off in Longwell Green, Warmley, Oldland Common, Fishponds and Mayfield Park.
In its website update at 9.43am, the company said it was hoping to get customers connected ''in the next three hours.''
Customers in need of water are told they can fill up their own containers at:
Grange School, Warmley BS30 8XL
Morrisons, Fishponds. BS16 3US
Aspect Leisure Park. Longwell Green BS15 9LA
It has also apologised again for the ongoing inconvenience.
Kate Andrews sent Heart pictures from her house: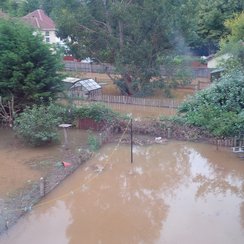 Between Friday and Saturday the firm issued the following statement:
''Following repair to the burst main and during recharge of the system it is probable that some customers will experience some orange or brown discolouration to their water.
''This occurs when particles of iron normally deposited on the bottom of the iron water mains are disturbed by changes in flow.
''Staff will be working in the area to return supplies to normal as quickly as possible however considering the size of the area affected this may take some time.
''If you experience this problem when your supply is restored please check our website for further information and progress of the work.
''It is probable air will enter the supply network as it is being refilled after the repair. Under mains pressure the air will dissolve into the water.
"When you turn on your tap, the water is no longer under pressure and the air forms tiny bubbles which can make the water appear milky or cloudy. In these instances water left standing in a glass will clear from the bottom up.
''The air can take several days to dissipate from the system but if it persists beyond this time please contact us on 0345 702 3797.''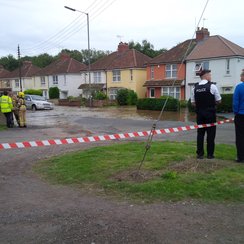 The MP for Kingswood, Chris Skidmmore, says he would be pushing for an investigation into the handling of the incident.
For more advice on water quality CLICK HERE
(Pic courtesy of Tracy Allward)