Weather: Tidal Surge Hits Bristol - GALLERY
3 January 2014, 11:36 | Updated: 3 January 2014, 11:49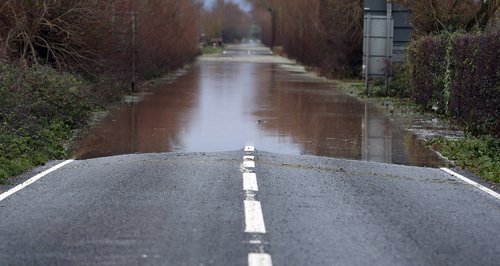 The River Avon has burst its banks in some areas - including Pill, Shirehampton, and Southville - as high tides coincide with strong wind and heavy rainfall.
The local authority used its emergency flood barrier kit for the first time with sections of the barrier put into place across Avon Crescent where it meets Cumberland Road. A diversion is in force.
The periods of highest risk will be the hours before and after the peak tide levels. These are predicted to be on Friday, January 3, at 8:30am and again at 8:57pm and on Saturday, January 4, at 9:17am and again in the evening at 9:42pm.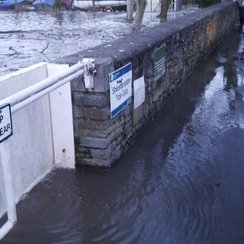 The Flood barrier at Shirehampton

In addition to the risk posed by the bad weather forecast there is also one posed by high spring tides coinciding with a predicted high storm surge along the River Avon to central Bristol.

Members of the public walking in the vicinity of the Cumberland Basin area on Friday and Saturday are being urged not to get too close to the water's edge.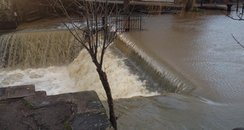 River Avon near Louisiana Pub

For the latest flood warning information and how to prepare for flooding:

· Environment Agency's Floodline on 0845 988 1188

· Visit: www.environment-agency.gov.uk/flood

· Bristol City Council Emergency Control Centre on 0117 922 2050

Businesses which have a gully outside their premises in areas which are at risk are asked to make sure they are free of obstruction in order to allow excess water to drain away.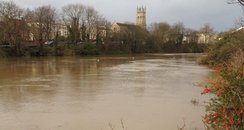 The Met Office is warning of more heavy showers on Sunday:
Outbreaks of rain, heavy at times, will affect the UK on Sunday. Quite widespread accumulations of 10-20 mm are then likely with locally in excess of 40 mm possible over some higher ground.

This additional rainfall, following the recent wet weather, means that the public should be aware of an increased risk of both surface water and river flooding as well as disruption to transport.