Bristol Zoo Appeal For Toad Patrollers
28 January 2014, 14:21 | Updated: 28 January 2014, 14:32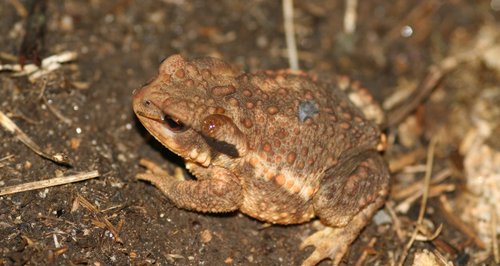 Bristol Zoo is looking for volunteers to help save thousands of toads and other amphibians from being killed as they make their perilous annual breeding migration.
Every year toads, frogs and newts migrate from their winter hibernation sites to ponds and streams, to breed. Toads in particular are very fussy about where they breed and like to return to their ancestral ponds; often crossing busy roads on the journey.

Toads can travel more than 1km during their migration back to their spawning ground. Rather than using rough hedgerow or grassy land, toads often choose the easier bare ground to travel along, making roads the obvious route.

Some roads have been closed for the breeding season, allowing the animals to cross safely, but many roads remain open and busy. Avon Reptile & Amphibian Group (ARAG) and Bristol Zoo Gardens are now calling on people to help collect migrating toads and move them to safe breeding sites.

Toad patrols are held in Fishponds, Bath, Chew Valley and Portishead and organisers are now looking for volunteers to help at these sites, as well as at potential new patrols elsewhere. Independent toad patrols also take place across Somerset, Gloucestershire and the Avon area, including Pill, Abbotts Leigh, Yatton, Brewham, Castle Cary, Edington Village, Mells, Priddy, Rumwell and Winscombe Hill.

Andy Ryder from Avon Reptile & Amphibian Group said:
"We urgently need volunteers to assist with rescue efforts throughout the local area. Amphibians will start their migration as soon as weather conditions become slightly milder. Toads start to move once evening temperatures exceed five degrees. They prefer wet evenings without strong winds. The migration period typically lasts for up to four weeks and could start at any time.
To help, you just need to be able to spare a few evenings from 6pm onwards. You will need a bucket, a torch and a high visibility jacket."

Jen Nightingale, UK conservation manager at Bristol Zoo Gardens, said:
"This is the fourth year that we have helped with toad patrols and, to date, these patrols have saves tens of thousands of toads from death on busy roads. Last year alone we saved over 8,000. This is a fantastic achievement, but we couldn't do it without the support of our fantastic volunteers, and we are keen to continue this important work as the new breeding season begins."

To find out more about volunteering for toad patrols in Fishponds, Bath, Chew Valley, Portishead, Bitton or Cameley please contact Andy Ryder from Avon Reptile and Amphibian Group by email a_r_a_g@yahoo.co.uk.

For the patrols in Pill, Abbotts Leigh, Brewham, Castle Cary, Edington Village, Mells, Priddy, Rumwell and Winscombe Hill, please contact Bristol Zoo's conservation office on jnightingale@bristolzoo.org.uk.

To find details of other toad patrols in the South West or elsewhere in the UK, visit the Froglife website
Froglife is a national wildlife charity committed to the conservation of amphibians and reptiles and saving the habitats they depend on.

Bristol Zoo Gardens is a conservation and education charity and relies on the generous support of the public not only to fund its important work in the zoo, but also its vital conservation and research projects spanning five continents.
{Photo: Avon Reptile and Amphibian Group}