Police Unveil Road Safety Super Car
5 June 2014, 11:46 | Updated: 5 June 2014, 12:20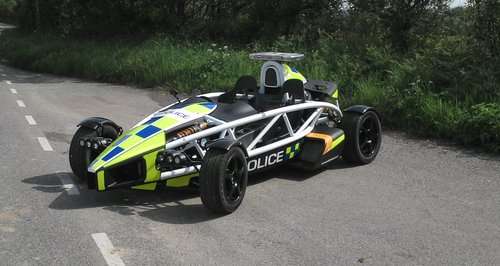 Avon and Somerset Police have enlisted the help of one of the fastest cars money can buy, to promote a new bike safety campaign.
Built by Crewkerne-based company Ariel, the Atom is one of the world's most powerful cars - it's able to go from 0-60mph in just two and a half seconds.
It's described as the closest thing to a motorbike on four wheels.
Biker Safety
Sadly though, our police won't be using it to chase criminals down the M5. Instead, it's being loaned to promote the force's Safer Rider campaign, as the summer months mean more motorbikes on our roads.
7 riders have lost their lives on the West Country's roads so far this year - an increase of 30% on last year.
Road Policing Sergeant, Andy Parsons said: "Motorcyclists make up just 1% of total road traffic, but account for nearly 20% of all road user deaths. They are roughly 35 times more likely to be killed in a road traffic collision than someone in a car".
Director of Ariel, Simon Saunders believes there's a time and a place for speed. He said: "Our business is about going fast, very fast... the road really isn't the place to explore you or your vehicle's limits".
You can see the Atom for yourself this weekend - the Safer Rider campaign is being launched at the Haynes Motor Museum in Sparkford on Sunday, June 8th.