A14: Upgrade Consultation Begins
7 April 2014, 14:14 | Updated: 7 April 2014, 14:24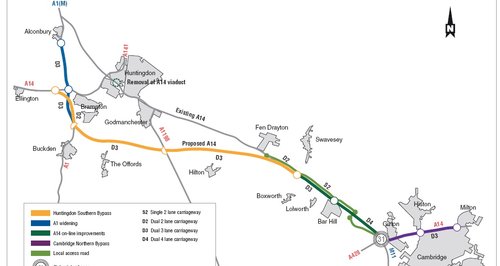 A ten week public consultation has started into plans for the £1.5 billion upgrade of the A14 in Cambridgeshire.
In September 2013 the Highways Agency held a public consultation to consider which route the A14 upgrade would take.
Since then, the proposals have been developed in more detail and plans to toll the road have been dropped.
The changes that have been made in response to feedback from last year's consultation include improvements to Brampton, Swavesey, Bar Hill and Girton junctions.
An updated local access road has also been proposed between Fen Drayton and Swavesey.
The Highways Agency says the current consultation exercise "forms part of the statutory planning process and is intended to give local residents, businesses, haulage operators and communities more information on the scope and details of the proposals and to have their say on the plans."
Roads Minister Robert Goodwill said: "The redevelopment of the £1.5 billion A14 scheme is vital to the economic development of the region, helping to support and unlock growth across the East of England.
The new consultation is an important next step in the development process, not only for local businesses, but for residents and motorists who are subject to delays and reliability issues on a daily basis.
I encourage anyone who uses the A14 to get online and have their say."
Ian Parker, the Highways Agency's project director for the A14 scheme, said: "This is a vital scheme that will deliver benefits for Cambridgeshire and those who regularly use the A14.
This consultation forms part of the planning process, so it's an important opportunity for everyone with an interest in this scheme to get involved and to let us know what they think.
That way we can make sure the scheme best meets the needs of businesses, road-users and the local community."
Click here to visit The Highways Agency website and get details about the consultation events.