Cambridge: Addenbrooke's Peanut Allergy Study Success
30 January 2014, 06:00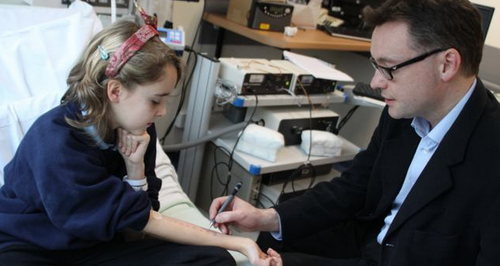 Cambridge scientists are claiming a breakthrough which will help millions of people overcome nut allergy.
They say they have developed a new immunotherapy treatment after five and a half years of trials on children.
It has resulted in a majority of youngsters who are allergic to peanuts being able to eat up to five a day, and more than half eating ten.
They include little Lena Barden, 11, who can now tuck into donuts - which contain traces of nuts - for the first time of her life.
Researchers at Addenbrooke's Hospital in Cambridge gave 99 children aged between seven and sixteen a small amount of peanut protein in powder form.
They gradually increased the dosage over a six month period until the youngster were able to eat a whole nut without any negative side effects.
A huge 84 per cent of patients were able to eat as many as five peanuts a day without feeling ill.
And incredibly more than half of the patients were able to eat TEN of the nuts with no side effects.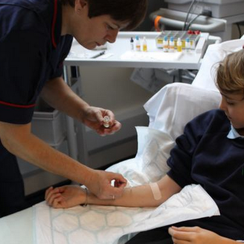 Scientists Dr Andrew Clark and Dr Pamela Ewan hope the treatment will soon be available to nut allergy sufferers on the NHS.
Dr Clark said: "This is a real first.
Peanut allergies affect one million people in the UK. We have quite a large research group and we have been working on this for about 20 years.
This is huge.
So many people have this allergy and there are a number of deaths across the UK each year as a result.
We have got fantastic trial results so hopefully we can use this treatment in the NHS now.
The treatment involves administering tiny amounts of peanut in a carefully controlled way and gently increasing the dosage over a few months.
This is something has been tried with other diseases but it has never been tried with food allergies.
This is something that drives down quality of life and people worry about what they might be eating all the time.
Before treatment children and their parents would check every food label and avoiding eating out in restaurants.
Now most of the patients in the trial can safely eat at least five whole peanuts. The families involved in this study say that it has changed their lives dramatically."
Dr Ewan added: "This large study is the first in the world to have had such a good outcome, and is an important advance in peanut allergy research."
Children who are allergic to peanuts risk going into a potentially fatal anaphylactic shock if they eat or even just smell a nut.
The condition is especially limiting for youngsters who have to constantly check food labels and can't share food with their friends.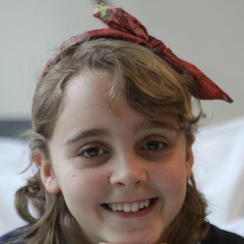 Histon 11 Year Old Tastes First Doughnut
Volunteer 11 year old Lena Barden [pictured] from Histon said: "I felt like I had won a prize after I found out I had been picked for the active group.
It meant a trip to the hospital every two weeks.
I was nervous at first but I was curious about what peanuts actually tasted like.
But I hated them.
They're disgusting and weird and they taste like sick.
Everything's so much better now, though.
I had my first donut last year and it tasted amazing.
It makes me feel happy - I feel so much more safe.
But I still wish I didn't have to eat peanuts every day."
Maureen Jenkins, Director of Clinical Services at Allergy UK, said: "The fantastic results of this study exceed expectation.
Peanut allergy is a particularly frightening food allergy, causing constant anxiety of a reaction from peanut traces.
This is a major step forward in the global quest to manage it."
Lynne Regent, CEO of the Anaphylaxis Campaign said: "We welcome the positive results of this important study.
Such a good outcome for so many of the children who took part demonstrates the importance of oral desensitisation treatment in transforming the lives of those with food allergy.
We look forward to seeing further developments in this area to improve patient outcomes."
The trial was carried out over five and a half years in the NIHR Wellcome Trust Clinical Research Facility at Addenbrooke's, part of Cambridge University Hospitals (CUH).
The research was supported by the Medical Research Council(MRC) and National Institute for Health Research(NIHR) partnership.
It was funded by the MRC-NIHR partnership through the Efficacy and Mechanism Evaluation (EME) Programme.
The initial pilot work was funded by the Evelyn Trust, Cambridge.
CUH is planning to open a peanut allergy clinic that would make a range of services, including immunotherapy on a named patient basis, available to patients.
It is hoped that one day the service will be made available on the NHS.
The results of the largest single trial of its kind worldwide are published in The Lancet today (Thurs).