Cambridgeshire: Busway Defects Found
4 April 2014, 13:37 | Updated: 4 April 2014, 13:41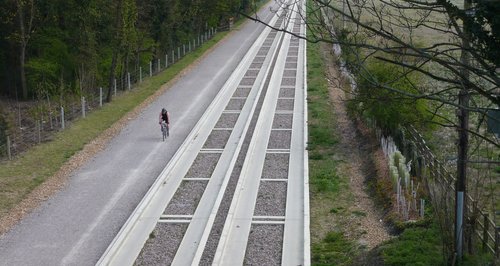 Cambridgeshire County Council says it has identified defects on the multi-million pound Guided Busway.
Since the track between Cambridge and St Ives opened in 2011, the authority says it has been monitoring the track ''to detect any problems at the earliest stage'', and some defects have been uncovered.
The issues include gaps between the guideway beams, drainage in some areas and problems with the support shims.
When long-running legal action against the busway constructors BAM Nuttal was concluded, the County Council identified three potential areas of concern, and reserved the right to seek recovery of the cost of any necessary repairs from the builders.
Since then work has been ongoing to assess the extent and seriousness of the faults.
A report to the Council's Cabinet on April 15 spells out defects, the work needed to assess them and measures which could be taken to meet the cost of rectification if it becomes necessary.
County Council Leader Martin Curtis, said: "We are determined that the success of the Busway will be maintained.
As with all major engineering schemes we are keeping a close eye on the performance of the structure to ensure it meets the standards demanded during construction and to identify any repair or maintenance work outside of what could have reasonably been expected when the track was built.
It is right and proper that any faults which are the responsibility of BAM Nuttall are put right at no cost to Cambridgeshire taxpayers and if professional experts find unexpected or additional repair or maintenance work is necessary we shall seek to recover the full cost of that work from BAM - even if that means taking further legal action.
The proposals which will be discussed by Cabinet are designed to keep the pressure on BAM to ensure that they meet the required requirements of the original construction contract."