Cambridge: AstraZeneca Confirms Move
18 June 2013, 09:55 | Updated: 18 June 2013, 11:57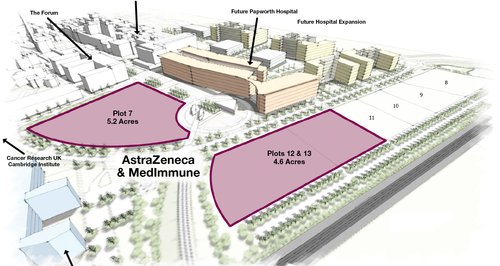 Pharmaceutical giant AstraZeneca has confirmed the location of a new global research and development centre and HQ in Cambridge.
The company says that by 2016, the new site near Addenbrooke's Hospital will house a highly-skilled workforce of approximately 2,000 staff.
As announced on March 18 2013, the investment in a £330 million facility in Cambridge is part of the company's move to create strategic global R&D centres in the UK, US and Sweden to improve pipeline productivity and to establish AstraZeneca as a global leader in biopharmaceutical innovation.
The purpose-built site in Cambridge will bring together AstraZeneca's small molecule and biologics research and development activity, opening up opportunities to exploit the promise of small and large molecule combinations.
The Cambridge Biomedical Campus will be the new UK home for biologics research and protein engineering carried out by MedImmune, AstraZeneca's biologics arm.
MedImmune already employs around 500 people at Granta Park, to the south east of the city.
The new site will also become the company's largest centre for oncology research as well as hosting scientists focused on cardiovascular and metabolic diseases, respiratory, inflammation and autoimmune diseases and conditions of the central nervous system.
Work carried out in Cambridge will include medicinal chemistry and high-throughput screening and the facility will accommodate a number of AstraZeneca's pre-clinical research capabilities.
Other global functions will join the research and development teams at the new facility and Cambridge will become AstraZeneca's corporate headquarters.
Pascal Soriot, Chief Executive Officer of AstraZeneca said: "Cambridge competes on the global stage as a respected innovation hub for life sciences and our choice of site puts us at the heart of this important ecosystem, providing valuable collaboration opportunities
Moving to the Cambridge Biomedical Campus means our people will be able to rub shoulders with some of the world's best scientists and clinicians carrying out some of the world's leading research - that's a really exciting prospect.
We hope that our move will contribute to the growing success of Cambridge.
Today's announcement also confirms AstraZeneca's long-standing commitment to the UK and increases the chances that the next generation of medicines will be discovered here in Britain."
David Willetts MP, Minister for Universities and Science at the Department for Business, Innovation and Skills, said: "AstraZeneca's investment is excellent news for the UK life sciences industry.
It strengthens our global competitiveness and supports our aim of making the UK the best place in the world for the discovery and commercialisation of medical innovations.
These are key themes of the Government's life sciences strategy."
Cambridge MP Julian Huppert has also welcomed the move.
Mr Huppert said: "I'm delighted at confirmation that AstraZeneca will be bringing its new global research and corporate headquarters to Cambridge.
It is further good news for the city, will bring 2,000 jobs and is a £330 million investment.
It is a great tribute to the excellence of work already done across the scientific disciplines, and how well regarded Cambridge is globally."