Cambridge: Clooney & Damon Visit Gym
5 June 2013, 09:57 | Updated: 5 June 2013, 10:12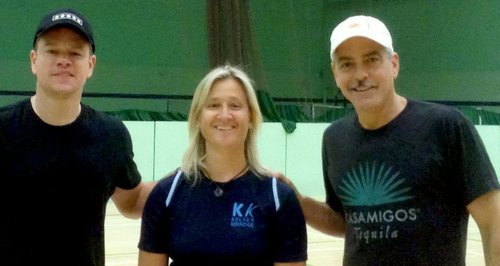 George Clooney and Matt Damon have taken a break from filming at the Duxford Imperial War Museum, by working out at a Cambridge gym.
Bourne Identity star Damon was the first spotted working up a sweat at the Kelsey Kerridge Sports Centre in Cambridge on Saturday evening.
He did an hour-long session on the weights and exercise machines and then posed for photos with star-struck staff.
And the following day Matt, 42, returned with George Clooney, the co-star in his new film which is being filmed nearby.
They asked staff if they could use the sports hall where they played basketball with bodyguards for an hour.
And despite their fabulous wealth both actors took advantage of an offer to use the facilities for nothing instead of paying the £7.80 one-off gym fee and £26 sports hall hire.
But when they asked for a longer session staff had to refuse them because the sports hall was booked.
Sports centre manager Liane Shadrack [pictured above - with actors], 42, said: "You do not expect to be working out next to Matt Damon.
It was quite bizarre.
I think some members found it a bit distracting and maybe didn't work out to their full potential that night.
He was just completely laid back, chatting to staff and members.
We were really busy on the Sunday and we only had one slot left between 1pm and 2pm so I said to Matt Damon that I would reserve it for him.
It was great that he came back and brought George Clooney with him.
Everyone was in shock.
They are both so handsome."
The Hollywood A-listers were enjoying a break from filming their latest blockbuster Monuments Men at the Imperial War Museum in nearby Duxford.
They rounded off their weekend in Cambridge by dining in the Loch Fyne restaurant on Sunday night - where co-star John Goodman was on Thursday.
They both tucked into smoked salmon and halibut main washed down with lager.
The film is directed by Clooney and covers an attempt to recover treasures stolen by the Nazis and also stars Huge Bonneville, Bill Murray and Jean Dujardin.