Cambridge: College Worker Killed in Russian Plane Crash
18 November 2013, 09:25 | Updated: 18 November 2013, 15:27
The British national killed in a plane crash in Russia was from Cambridge, and worked at one of the city's colleges.
Donna Bull was among the 50 people who died as the Boeing 727 was reportedly attempting a second landing at Kazan Airport in Tatarstan when it hit the ground and caught fire at around 7.20pm yesterday.

In a statement from her employers, Ms Bull was said to be "a very popular and well-respected member of staff'' at Bellerbys College.

All 44 passengers and six crew members were killed, the Russian government said.

Reports said the plane appeared to lose altitude as it was making its second landing attempt, the Associated Press said.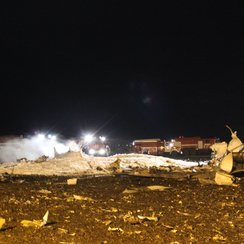 The Tatarstan Airlines plane had taken off from Moscow an hour earlier.
There are no immediate indications of the cause.
In a statement, Bellerbys college, where Ms Bull worked, said: "We have received confirmation of the very sad news that our Bellerbys' colleagues Donna Bull and Yana Baranova were on the plane that crashed in the Russian city of Kazan yesterday.
Donna had flown out from the UK to Moscow earlier in the day, where she met Yana, and the two were heading to Kazan for the start of a ten day marketing trip.
Donna joined Bellerbys Cambridge in April 2012 as an A-levels Programme Manager.
She was a very popular and well respected member of staff and will be sorely missed by both her students and colleagues.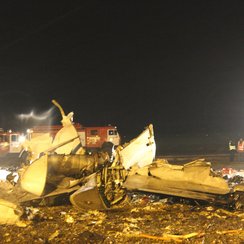 Yana, although based in Moscow, forged close relationships with Bellerbys staff in the UK in her capacity as recruitment manager and will likewise be sorely missed.
We offer our heartfelt condolences to both families during this very difficult time.
Bellerbys Cambridge will be closed for teaching Monday 18th November, but open for staff/students to come together and grieve.
We have also arranged counseling for students and staff that feel they require it."
'Difficult & Emotional Time' For Family
Ms Bull's widower Robert Crome issued a statement through the Cambridge News.
He told the newspaper: "This is a very difficult and emotional time for all of the family, trying to come to terms with the shock and loss of Donna.
Donna was a wonderful mother to George and Kate, kind, thoughtful and caring to her family and her many friends.
She was also a dedicated and hard-working professional, as a teacher and educationalist, so her students will all miss her greatly.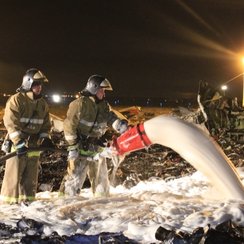 Words are inadequate to express our grief and loss.
We hope that the UK and Russian authorities can help to ease any administrative difficulties.
We extend our heartfelt sympathies to all those families in Russia who too have lost their loved ones in this tragedy.''
Tribute From Cambridge Student
A student taught by Ms Bull, who wanted to remain anonymous, told Heart: "She was always smiling, and encouraging us to go forward with our dreams.
She told us how we should work hard, because university is the most important and best time in our lives.
She was really great, as a teacher, as a person and as a colleague."