Cambridge: Council Apologises For Leaving Bin
5 July 2013, 15:28 | Updated: 5 July 2013, 15:37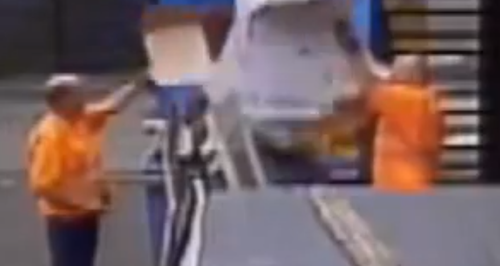 Cambridge City Council has apologised after rubbish collectors were filmed appearing to overfill a shop bin, to avoid emptying it.
Iftikhar Ahmed, who runs DARS Express on Regent Street, said he set up CCTV cameras after incidents of waste not being collected by Council operatives in the past.
The footage from this CCTV, taken last Friday (28 June) seems to show rubbish collectors overfilling the bin with rubbish and then walking off without emptying it.
Bins are not usually emptied when they are full above capacity, according to Cambridge City Council.
Mr Ahmed said: "We checked the CCTV and were really shocked.
We were really speechless.
We are paying for the bin to be emptied, and this how we are being treated."
In a statement, Cambridge City Council said: "Cambridge City Council will be investigating this incident and taking appropriate action in accordance with the council's disciplinary policy.
We always aim to offer good customer service, and on this occasion the level of service was not acceptable.
We have apologised in writing to the customer.
It is council policy not to collect overloaded bins where the lids are not fully closed or the bin is prohibitively heavy, and not to collect any waste which is not within the container provided.
Business customers need to ensure they have the correct frequency of collections or number of bins to deal with the amount of waste they generate.
The council is keen to work with businesses to tailor services to their needs, and encouraging separation of waste for recycling.
We will be working with the customer to improve the service we provide to them, and urge other businesses to talk to us about options for recycling, which can help them manage their waste more effectively and save money."