Cambridge: Dutch Ferret Touches Down
29 August 2013, 11:31 | Updated: 29 August 2013, 11:37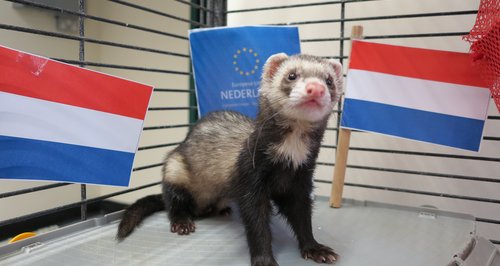 A ferret has been discovered inside a hangar at Cambridge Airport, after possibly somehow flying in from Holland.
Wood Green Animal Shelter is now searching for whoever owns the animal, named Vincent.
He was found inside an aircraft hangar at Cambridge Airport on Sunday (25 August).
Examinations discovered he had a microchip inside him, which links him to the Dutch town of Eindhoven.
The theory is Vincent could have somehow boarded a C-130 Hercules aircraft in Holland, and travelled the hour long flight to Cambridge.
Vets have however so far been unsuccessful in tracking down his owner.
Head of Small Animals at Wood Green, Marie Channer said: "We know from Vincent's veterinary check that he is a well-cared for pet and it is quite likely a family out there are missing him dearly.
The problem we have is that we don't know whether Vincent has managed to find his way to the UK on his own or whether his family have in fact moved over with him.
Vincent is a bright and playful ferret and we hope that by appealing to the public we will be able to reunite him with his family as soon as possible."
Group Support Executive at Marshall of Cambridge, Terry Holloway said: "This is an absolute first for us in the 104 year history of Marshall, to have discovered a ferret in an aircraft hangar!
However, there are very strict rules about transportation of animals to the United Kingdom and, when we discovered Vincent came from the Netherlands, we advised that the UK Border Agency should be notified.
Darwin airlines will be commencing scheduled flights from Cambridge to Amsterdam on September 2 so we may be able to help him with his return flight to Holland!"
Vincent will be cared for at Wood Green until his owner comes forward or he is rehomed to a new family.
Wood Green contacted officials from the UK Border Agency who confirmed that Vincent could be made available for rehoming once his seven day stray time was up.