Cambridge: Dyslexic Pupil Wins Cambridge Place
15 August 2013, 10:20 | Updated: 15 August 2013, 12:49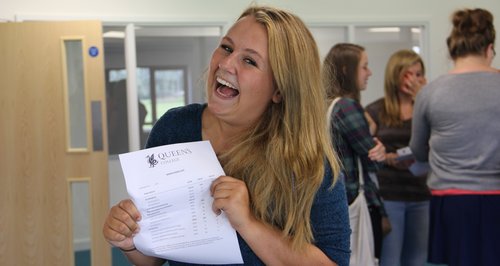 A teenager is heading to Cambridge University even though she has problems writing.
Penny Banks secured a string of top A-level grades to win a place at Girton College to read land economy.
The 17-year-old, from Honiton in Devon, has been diagnosed with dyslexia and dyspraxia and also has handwriting issues.
Penny, who gained three A*s in maths, economics and physics, joined Queen's College in Taunton as an academic scholar in year nine.
During her time at the school she has received support from the school's learning development unit, giving her tactics and practical help to help deal with her problems with co-ordination and thought processes.
"I can't think in a straight line and find it really difficult to write fluidly but the support at school has really made a difference,'' the teenager said.
"I was finding it really difficult to concentrate in exams and now wear ear plugs - something I would never have thought of - so that I can sub vocalise better and block out any exterior sounds.''
In addition to her academic success, she has also played a role in campaigning against global hunger.
She joined comedian David Walliams to call on the Prime Minister to end global hunger, as part of the national If Campaign.
Penny met David Cameron at 10 Downing Street in June and presented him with a six-foot plate, a symbol of global hunger, ahead of the G8 summit on which were more than 1,000 signatures from people pledging their support.
"I am so excited about going to Cambridge this autumn and cannot wait to get stuck into my course,'' said Penny.
"When I read about land economy, I found it so much more interesting and broader than straight economics and I was impressed that Girton was the only college to ask for maths as a required A-level.
"I know that my parents are really proud that despite my learning difficulties I have managed to gain a place at the top university in the country.''