Cambridge: Fire At College
2 July 2013, 15:01 | Updated: 3 July 2013, 11:42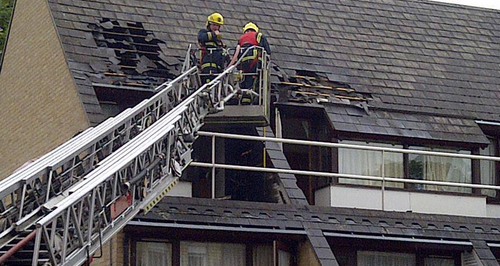 Five fire crews were called to a fire that damaged some student accommodation at a Cambridge University college.
Cambridgeshire Fire and Rescue Service crews were sent to student rooms which are part of Clare College in Castle Street.
Crews were called just before 2:15pm today (Tuesday) to a fire on the first floor, which had spread to a roof space.
The fire was put out by around 3:15pm.
There were no reported injuries.
Crews had to cut away sections of the building's roof to ensure the fire had not spread.
It's not yet known how the fire started.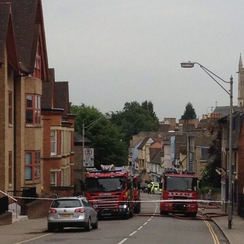 An eyewitness who saw the fire said: "I saw lots of smoke coming from just over Castle Hill.
We were having a meeting at Shire Hall at the time, and the smoke smelt really strong.
It was obviously quite a big fire as there was a lot of smoke, but there weren't any flames.
We heard a massive crash before we heard the fire engines arrive.
We thought the crash was something to do with the bins and some builders or something."
An investigation into the cause of the fire is due to take place overnight.
Update: 11:40am Wednesday 3 July.
Initial investigations have established that the fire was most likely an accident.
However investigations into the specific cause of the fire are continuing.
Fire Investigator Dave Allen said: "Following preliminary investigations and with the information available, the most likely cause of the fire was accidental, by person.
Further investigations are continuing in to the exact ignition source of the fire."
Top picture courtesy of Cambridgeshire Fire and Rescue Service.