Cambridge: Hotel Fire
1 October 2013, 07:24 | Updated: 3 October 2013, 11:21
At least 12 fire engines and 60 firefighters were called to a fire at Cambridge's University Arms Hotel this morning.
Three crews from Cambridge, plus engines from Burwell, Linton, Sawston, Papworth, Huntingdon, Newmarket and Royston were called to the hotel on Regent Street at around 6am.
Cambridgeshire Fire and Rescue Service say there were no reports of injuries, and around 150 people were led to safety from the hotel and accounted for.
Video courtesy: Cambridgeshire Fire and Rescue Service.

The fire broke out in a room on the top floor of the five storey building, before spreading to the entire floor.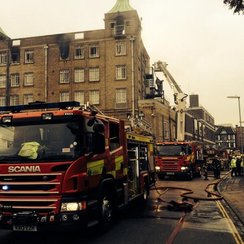 At around 7am the Fire Service told Heart the top floor was 'well alight'.

Just before 8am, we were told firefighters were still trying to put out the fire, but they had managed to contain it to the top floor.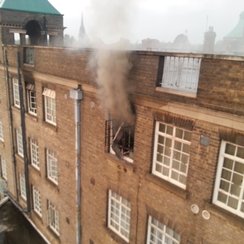 A spokesperson for Cambridgeshire Fire and Rescue Service said: "Firefighters wearing breathing apparatus used jets and hose reels to contain the fire, which quickly spread to the roof and stud wall.
Crews are still at the scene to ensure the fire does not spread any further, using thermal imaging cameras to check for hot spots."
Drivers in Cambridge city centre were warned to expect disruption due to the fire.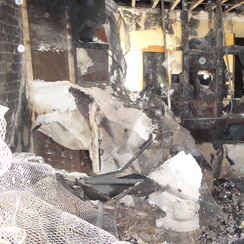 Regent Street has been closed between St Andrew's Street and A603 Gonville Place / A1307 Hills Road.
Update: 1st October 2013, 14:25
Cambridgeshire Fire and Rescue Service has now confirmed that the fire is now out.
Two crews remain at the site to damp down any remaining hotspots.
Incident Commander Brenan Morgan said: "This is a timely reminder for people running hotels in the area to make sure they have an evacuation policy in place and the fire alarm systems are working.
Hotel staff did a professional job at evacuating the property and have worked extremely well with the fire service during this incident."
Update: 1st October 2013, 17:25
Cambridgeshire Fire and Rescue Service has confirmed that all crews have now left the scene.
The road next to the hotel, Park Terrace, has been re-opened by Police.
Fire crews will return to the hotel to carry out inspections through the evening.
Update: 3rd October 2013, 10:00
Cambridgeshire Fire and Rescue Service say the most likely cause of the fire was a fault in an air conditioning unit, in the room where the fire started.
They've confirmed it was not started deliberately.
Fire investigations are now complete.