Cambridge: Station Square Plans For CB1
14 June 2013, 11:13 | Updated: 14 June 2013, 12:43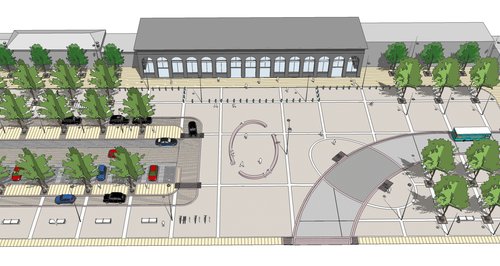 Plans to redevelop the Station Square have now been submitted to Cambridge City Council as part of the CB1 development.
The proposed station square will be located next to the existing station building, and will cover an area of 8,400m2, the same size of the Market Square in the centre of Cambridge.

The majority of the square will be a pedestrian only zone with clear spaces and routes, helping to reduce the current high levels of congestion at the station.

Access to Station Road will be restricted to buses, bikes, and authorised delivery vehicles only. Taxis and private cars will be able to access the northern drop off area of the Station Square via Tenison Road and the new Northern Access Road to be called Great Northern Road.
The northern drop off area will provide a taxi rank for 12 taxis next to the station entrance and a taxi shelter for waiting passengers. There will additionally be taxi waiting arrangements to deal with peak demand when train arrive at the station.

Seven disabled car parking spaces, eight short stay parking spaces and eight "drop off spaces", including two for disabled users, will also be provided.
Station operator Greater Anglia is delivering a £4.5m scheme to improve the passenger environment at the station, helping to reduce congestion by providing a better concourse and more modern and spacious ticket hall. Combined with the new station square and 3,000 space cycle park, these improvements are set to transform Cambridge station and the surrounding area.
Geraint Hughes, Partnerships Manager for Greater Anglia said:
"We welcome this as another step towards a comprehensive redevelopment of the area around Cambridge station."
Plans have also been submitted for One Station Square, which will part fund the improvements to the Station Square, and will be the first building seen by those emerging from the railway station. The proposals comprise of 12,000 sq m of office space and 1,000 sq m of ground floor retail, catering and restaurant space over six stories.
Linda McCord, Passenger Manager of Passenger Focus said:
"Passengers will welcome these changes to Cambridge Station as it should help them access and find their way round the station more easily. Any improvements to the signage for passengers changing from rail to bus services is particularly welcome."