Cambridge: Protest Against Cinema Sale
10 October 2013, 07:14 | Updated: 10 October 2013, 15:18
Around 130 protesters demonstrated last night against a ruling forcing Cineworld to sell one of its Cambridge cinemas.
The competition watchdog says Cineworld, which took over Arts PictureHouses last year, can't run both as it may drive ticket prices up because there wouldn't be enough competition in the area.

Cambridge MP, Julian Huppert, was at the demonstration.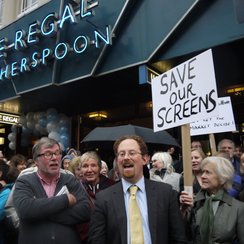 He said "I hope there's still a possibility the Competition Commission could change their mind.

There are some other mechanisms we're currently looking at to see if they would work.

This is a great beacon for the country of how you can actually run an Arthouse cinema successfully, and financially beneficially.

It would be a real shame to see a forced sale of it.

That would affect people not only here in Cambridge, but accross the whole country, where it's important to encourage the arts, and people getting involved in those things."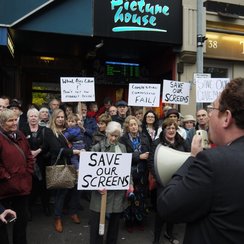 The Arts Picturehouse says, "We continue to believe, as do a large number of our customers, that Cineworld and Picturehouse offer two very different cinema experiences and can operate side by side without diminishing choice or increasing prices as the Competition Commission have concluded.

This is therefore a very frustrating outcome.

No decision has yet been made as to which cinema we will sell in Cambridge."