Cambridgeshire: 1,000 Years In Prison Given
22 October 2013, 06:00 | Updated: 22 October 2013, 12:01
A unit set up to deal with some of the most serious crimes in Cambridgeshire has secured more than a thousand years' imprisonment, in the 18 months since it started.
Major crime units in Cambridgeshire, Bedfordshire and Hertfordshire joined together in April last year to combine expertise on investigating the most serious offences across the three counties.
They've now passed a total of 1,018 years' imprisonment in minimum tariffs on life sentences and jail terms for those responsible for serious crimes in the three counties.
A total of 37 life sentences have also been passed since the unit was launched last year.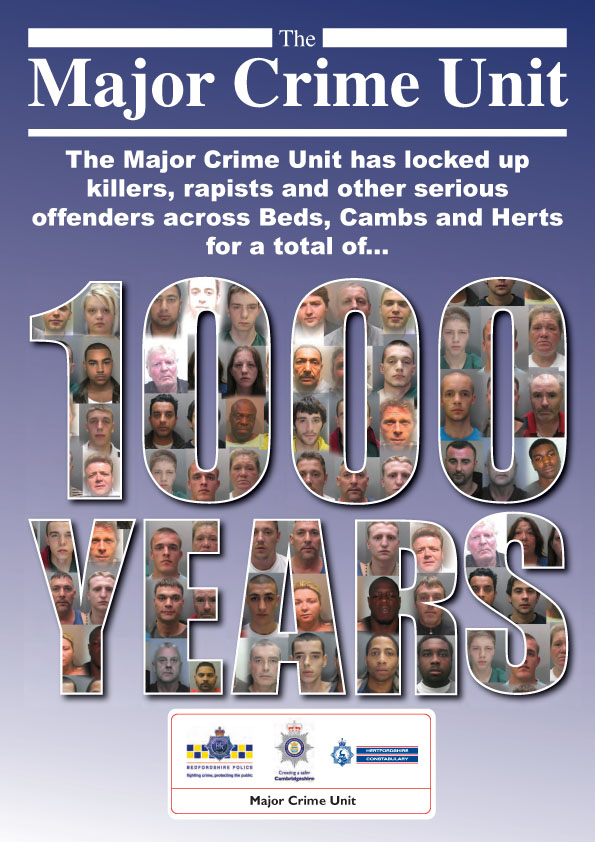 The latest offenders to be sentenced were Thilak Mohan-Raj, 25, who was jailed for life with a minimum term of 25 years at Luton Crown Court and Michael Carroll who was given life with a minimum 11 years at Cambridge Crown Court. Both were sentenced for murder on Friday 11th October.
Mohan Raj had murdered shopkeeper Vairamutha Thiyagarajah after the shopkeeper confronted him over a theft of money from his Bedford home in April. Carroll strangled his wife, Elisabeth, at their Peterborough home in May, last year.
The unit, which has hubs in Huntingdon and Welwyn Garden City, has five dedicated teams investigating murders, stranger rapes, kidnap and extortion and other major inquiries which also include several cold case investigations that are constantly being reviewed for new leads and fresh evidence.
They've taken on more than 50 fresh investigations during the past 18 months including shootings, murders, hijackings and rapes.
Detective Superintendent Paul Fullwood took over as head of the Major Crime Unit (MCU) in August.
He said: "This is a huge milestone for the MCU and is testament to the dedication and determination of every officer and member of staff involved in the unit.
"Everyone involved should be immensely proud that some of society's most dangerous individuals are now behind bars for a considerable amount of time.
"It should be reassuring for people living in Bedfordshire, Cambridgeshire and Hertfordshire to know that there is such a specialised unit working hard to keep them safe and we will continue do so."

A poster has also been produced celebrating the milestone and features pictures of some of those offenders who have been jailed over the past 18 months.