Cambridgeshire: Busway Dispute Settled
30 August 2013, 11:11 | Updated: 30 August 2013, 13:50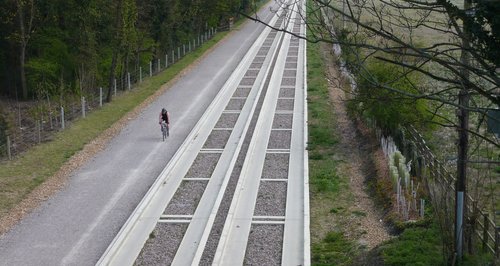 Contractor BAM Nuttall has agreed to pay Cambridgeshire County Council £33 million, ending the dispute over the Guided Busway.
The settlement means Cambridgeshire County Council will have paid the company £84.7 million to build the busway, which runs between Cambridge and St Ives.
The original price agreed was £83.9 million.
The agreement has been reached following discussions and agreement among all political groups on the Council.
A legal battle between the two parties started after BAM Nuttall were two years late handing over the busway.
It was due to open in Spring 2009, but didn't open until August 2011.
Cambridgeshire County Council says the firm claimed it was owed around £70 million more than the price originally quoted.
The contractor said it cost them £152.5 million to build the Busway, and asked the Council to pay an extra £43 million on top of the £117.7 million the authority had already paid.
A protracted legal dispute then followed, which led to the Council paying extra legal and staffing costs fighting the case.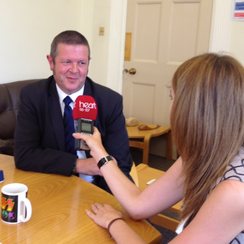 However, the Council Cabinet agreed to accept BAM's offer to settle the dispute which will avoid incurring further legal costs in pursuing the case through the court process.
The Cabinet will also carry out a review to see what lessons can be learned locally and nationally from our experiences.
Cambridgeshire County Council Leader Martin Curtis said: "I am pleased that this settlement has been agreed and that we can move on from what has been a difficult and time consuming dispute for us.
It is clear that the Council was right to take the bold decision to provide better transport options for residents in one of the fastest growing parts of the country; and right that we signed a robust contract with BAM Nuttall.
The Busway is a huge success and way ahead of passenger and business case forecasts.
What is deeply disappointing and frustrating is that it has taken this long and cost us so much money to win our arguments and stop BAM Nuttall from trying to take tens of millions of pounds away from local taxpayers.
BAM's unwillingness, until now, to recognise their financial liability means they have tied up and cost Cambridgeshire taxpayers money which could have been better spent on our communities.
We have always been very sure of our case and would have been willing to go to court to fight that case.
However, following discussions with all group leaders, we felt that we would rather have certainty and settle the matter than risk mounting legal costs.
It is clear from the analysis of our professional and legal teams that, were it not for the strong contract we had in place, BAM would never have settled.
We are, therefore, now going to review and learn from our experience to see how we can help to stop this happening locally and nationally in the future."