Cambridgeshire: Chief Constable Gets New Year Honour
31 December 2013, 08:56 | Updated: 31 December 2013, 09:07
Chief Constable Simon Parr has been named in the Queen's New Year Honours list.
Simon has been awarded the Queen's Police Medal (QPM), in recognition of distinguished police service.

He said: "'I was both proud and very surprised when I learnt of this honour.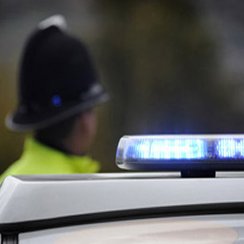 "Recognition of this kind is not what we work for in policing, which makes it all the more exciting when it comes. It is also a great reflection on the Constabulary, and all the selfless work that colleagues do each and every day.

"I would also like to say a huge thank you to my family, who have supported me for so long."

PCC Sir Graham Bright said: "It is a pleasure to work with Simon. His leadership has not only made Cambridgeshire one of the safest places in the country, but also put the Constabulary on the map with its programme of cutting edge information technology."

Simon was appointed Chief Constable for Cambridgeshire in September 2010, following three years as the Deputy Chief Constable in Hertfordshire.

He joined Hertfordshire Constabulary in January 2004 and served as Deputy Chief Constable from 2006, during which time he was responsible for Corporate Services, which includes Human Resources, organisational planning and development and change management.

Simon previously spent 20 years with Sussex Police, during which time he was head of control rooms department and also commander of East Downs Division. Simon was latterly head of the Operations Department for Sussex Police and was involved in the management of several major incidents; most noticeably the Lewes floods in 2000 and the public order policing of several party conferences in Brighton.

Most recently he has been the driving force behind changes to the way policing in Cambridgeshire is delivered that meet the Government's budget cuts. Force cuts have led to a new model for policing in the county and closer operational collaboration with forces in Bedfordshire and Hertfordshire.

As a consequence he has become involved in the development and use of ICT in policing to ensure more efficient working and preservation of the frontline and recently presented at the National College of Policing's Digital Pathfinders conference alongside Policing Minister Damien Green.