Cambridgeshire: A-Level Results Advice
15 August 2013, 06:00 | Updated: 15 August 2013, 14:30
Students and parents across Cambridgeshire are being told not to panic this morning, when they receive A-Level exam results.
Christine Sherwin, the Principle from Long Road Sixth Form College in Cambridge told us the key thing for everyone to remember is to "stay calm".

We asked her what the students should do if they don't get the results they expected: "The first thing they need to do is to actually check with their universities, to find out where they stand.

They might be pleasantly surprised and find they have an offer on the course they've chosen, despite the grades, or they might have an alternative offer from the university.

So the first thing they need to do is to clarify exactly where they stand in terms of their existing applications.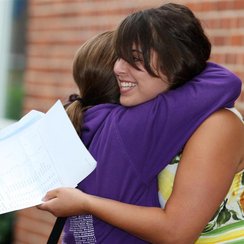 If unfortunately they don't get a place, I'd advise them then to quickly get in touch with the school or college where they've been studying.

They need to try and stay calm, think about it all in a very measured way and not rush into a decision that they might regret, so I do think speaking to staff that are used to helping students out in that position is the right thing to do."

We also asked Christine for advice for students who get better grades than expected: "That's an equally important situation to deal with, and again they need to look at their UCAS options because they do now offer the facility to apply for places that require higher grades if they do get grades higher than expected.

They should explore their options instead of just accepting their existing university places."
Meanwhile Peterborough Regional College is holding a dedicated Results Day event in their main hall today (Thursday) between 10am and 4pm.
The college hold the help sessions annually, to offer students who may need some assistance with what step to take next.
Students can expect a supportive and relaxed environment at their results day with tutors on hand for course information and advice and also a dedicated Careers advisor.
You can get more advice on A-Level results from the following websites:
Anglia Ruskin University Clearing
Results from selected Cambridgeshire colleges:
Students at Long Road Sixth Form College, Cambridge, achieved a pass rate of 96% from grades A* to E.
66% of these grades were at grades A* to C.
The Perse, Cambridge congratulates its 149 students who sat A Level and Pre-U exams in the summer of 2013 for their success.
The A* - C pass rate was 99%.
The A* - E pass rate was 100%.
Ed Elliott, Head, commented: "I am delighted that for the fourth year in succession over three quarters of Perse exam entries were graded at either A* or A.
Year after year Perse students achieve excellent results and the class of 2013 was no different.
Securing top grades in demanding subjects is a real achievement and something that students, parents and teachers should celebrate."
Sixth form students at the Stanground Academy are celebrating as they have achieved a 100 per cent pass rate in their A-level and Level 3 equivalent courses of study for the first time.
Students continue to excel and the percentage of students achieving two or more A-levels or equivalents has also risen dramatically to 95 per cent.
What is even more impressive is that 35 per cent of students have achieved A* or A grades in A-level or Level 3 equivalent courses this year.
Top-class students at Wisbech Grammar School have been celebrating A Level results that have qualified them for their chosen university places.
The school's upper sixth form students achieved a 100 per cent pass rate, with more than two thirds of the passes being at the top three grades, A*, A and B and with ten pupils gaining A* or A grades in three or more subjects.
Two of the candidates, head boy Sam-Henry Pressling and deputy head boy Jonathan Ison, have won places at top Oxbridge colleges after achieving a full house of A* grades in four subjects.
Pupils at Nene Park Academy are celebrating after achieving impressive A Level results once again with 12 per cent of pupils achieving the highest A* or A grades.
The academy, based in Orton Longueville, Peterborough, recorded a pass rate above 97 per cent for the second successive year, but also recorded increases in pupils achieving the higher grades.
The national average pass rate in 2012 was 93.6%.